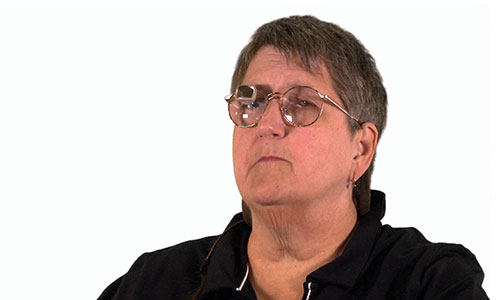 A New York Eye and Ear Infirmary of Mount Sinai patient shares how the tragedy of Hurricane Sandy made a lasting impact on her vision
When Mary McAtee and her wife Elise heard that Hurricane Sandy was bearing down on New York, they thought they were prepared. They had been through hurricanes and flooding before and had experience preparing their home for the storm. They purchased extra food and supplies and moved their car to higher ground as soon as the storm arrived.
By the time Mary got home from moving the car, her street was already flooded. Mary had to wade through murky water to reach her house. As Mary made her way down the street, she cut her ankle on debris in the water, but that seemed like the least of her problems as the storm raged into the night and the next day. The water rose so high around their home that Mary and Elise could hear boats banging into the walls of their second floor bedroom. Thankfully, Mary and Elise remained safe and were able to stay in their house.
After the storm had finally passed, Mary and Elise began the process of cleaning and restoring their home and neighborhood. Mary had been using topical treatment for the cut on her ankle, but she was consumed with storm recovery efforts. Mary and Elise were without power for weeks. Mary had to travel to Boston several times for work. On her second trip, Mary began to feel ill. Mary thought she had the flu, but after several days, her symptoms got worse and was taken by ambulance to a local hospital.
In the ambulance, Mary realized something was seriously wrong with her vision. Mary said, "I couldn't focus on people, I couldn't see. I knew there was something really wrong." Mary's family tried to get doctors in the Emergency Room to focus on her sight, but the doctors were concerned with many other critical issues including keeping Mary's organs working. Mary's doctors were not sure she would survive. Mary was diagnosed with sepsis, a severe blood infection that can lead to organ failure and death. For Mary, it led to 80 days in the hospital and a rehabilitation center.
After intensive treatment, Mary started to recover, but she was still having major issues with her vision. Mary completely lost vision in her left eye. Mary's vision in her right eye was so poor, she could barely perceive light. At first, Mary was told she might have diabetic retinopathy, a common diabetic eye disease caused by changes in retinal blood vessels. However, Mary didn't have diabetes. Mary and her family were frustrated that no one could tell her why she was going blind.
After she was finally discharged from the hospital, Mary and Elise sought out a specialist who could examine her and finally help with her vision. They did research online and found information about Ronald Gentile, MD, Professor of Ophthalmology at New York Eye and Ear Infirmary of Mount Sinai (NYEE) and a world-renowned retinal specialist. Mary explained, "For 10 years running, he had been voted best retinal specialist in New York and New York Eye and Ear Infirmary was also clearly identified as the best place to get top-notch care."

During Mary's first consultation, Dr. Gentile examined Mary and told her there was major damage to the interior of her eye from the sepsis infection. "He compared my condition to a war injury," Mary said. He immediately determined that Mary needed surgery so that he could get a better picture of the damage to her retina.
Her final diagnosis was endophthalmitis, or severe inflammation of the tissues inside the eye, that can be caused by infection. Although a rare condition, Dr. Gentile had done extensive research in this area. Mary wound up needing three surgeries. During the first surgery, Dr. Gentile removed much of the scar tissue that had formed in her eye. Mary said there was an immediate improvement in her vision after that surgery. After the two subsequent surgeries, she regained additional visual benefits.
Prior to the sepsis infection, Mary had been a Vice President at a software company, which required a lot of travel and kept her engaged in ongoing research. After the infection, she was worried that she would no longer be able to work. During her treatment at NYEE, Dr. Gentile encouraged Mary, making her feel that it might be possible to resume a more normal life.
Mary continues to work with a low-vision specialist and will need ongoing treatment to make sure scar tissue doesn't reform, but now, nearly three years after her ordeal, the vision in Mary's right eye is stable and she is back at work part-time. She says she now feels like "the old Mary."
"I'm convinced that if Dr. Gentile had not been as engaged and interested in helping me reach my potential, I wouldn't be working and have my title back at my organization." Mary also credits Elise with her amazing recovery, "She was with me every step of the way. She always had total confidence that I would be able to get back to my old self."