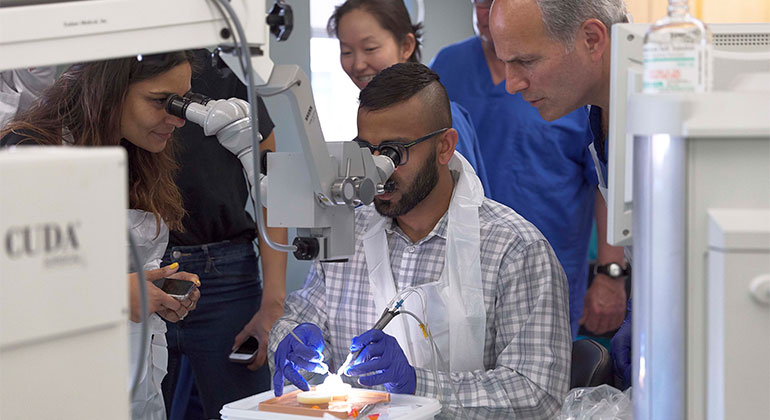 Ophthalmology Residency Training Program at NYEE
New York Eye and Ear Infirmary of Mount Sinai (NYEE) offers a three-year ACGME accredited ophthalmology residency program with outstanding clinical and surgical training. The mission of NYEE is to provide excellence in medical education, professional development, patient care, scientific research, and community service. The full breadth of medical and surgical ophthalmology training is offered with experience in general ophthalmology, as well as all ophthalmic subspecialties, including cornea, retina, neuro-ophthalmology, oculoplastics, glaucoma, pediatric ophthalmology, ocular oncology, uveitis, contact lens, ophthalmic pathology, and refractive surgery.
Expansion of the Training Program
In order to train ophthalmologists who will transform the way ophthalmic care is delivered in the next 100 years, NYEE and Icahn School of Medicine at Mount Sinai (ISMMS) requested and were approved for an expansion of the residency training program for residents beginning July 2021. Two previously distinct training programs (New York Eye and Ear Infirmary with seven residents per year and Icahn School of Medicine at Mount Sinai with four residents per year) will now be combined into one program, creating the largest training program in the country (with 10 residents per year). In this new program, residents will learn in a diverse set of practice environments, preparing them to pursue any pathway they choose, such as clinical comprehensive practice, sub-specialty training, medical education, or global health.
Applicants applying for residency training beginning July 2021 will apply to the integrated program through SF Match and will interview in the fall of 2019, with the Match taking place in January 2020.
The residency training program will provide unparalleled opportunities for trainees who will benefit from:
Integrated competency based curriculum
Research opportunities
The residency program is an integral part of the Department of Ophthalmology. We strive to inspire and mentor our residents to become leaders in patient care, education, global health, and vision research.