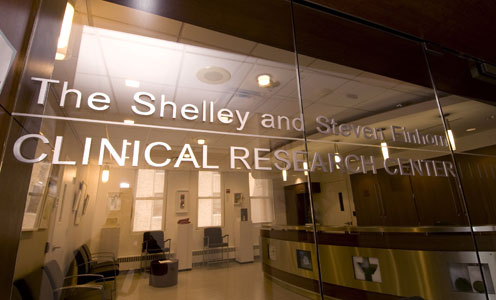 Established in 2010, The Shelley and Steven Einhorn Clinical Research Center at New York Eye and Ear Infirmary is the epicenter for research that's helping to discover a new generation of treatments and diagnosis for degenerative eye diseases like diabetic retinopathy, glaucoma, macular degeneration, and much more. The Center provides a comprehensive setting for NYEE's researchers and clinicians to conduct a growing portfolio of clinical investigations, often done in conjunction with pharmaceutical and other academic partners, all aimed at fostering the best patient care and life changing breakthroughs. "Patients often come to New York Eye and Ear Infirmary because they know they can get the most up-to-date diagnostic facilities and access to bold new therapies they can't find elsewhere," says Richard Rosen, MD, Vice Chair and Director of Ophthalmology Research at NYEE.
Areas of Research
The scientists and physicians at the Einhorn Clinical Research Center work in eight distinct areas, each devoted toward development of better diagnostic technologies and clinical trials targeting specific eye diseases, preventing blindness, and restoring vision. Areas of research include:
Adaptive Optics Cellular Imaging
Optical Coherence Tomography Clinical Imaging
Clinical Trials and Outcomes Research
Glaucoma
Neuro-Ophthalmology
Ocular Circulation, Functional, and Metabolic Imaging
Uveitis and Ocular Inflammation
Retina Diagnostics and Restoration
State-of-the-Art Ocular Imaging Center
Advanced imaging is a critical component of the innovative care delivered at NYEE, supporting progress our researchers and clinicians are making in areas like stem cell and gene therapy and illumination of basic the microanatomy at the cellular level. The Einhorn Center is at the forefront of developing and implementing a wide range of high resolution instruments to help diagnose and treat diseases of the eye. NYEEI's Advanced Retinal Imaging Laboratory is a unique facility exploring new technologies for imaging the human retina and understanding of its anatomy, physiology and visual function. The Lab has been a leader in innovating structure / function studies of the eye utilizing, adaptive optics, optical coherence tomography and angiography, quantitative fluorescence, hyperspectral imaging and microperimetry.
Advances in analytical software for adaptive optics images by researchers at Einhorn Center's Marrus Adaptive Optics Imaging Laboratory are providing quantitative as well as qualitative assessment of the cellular structures directly involved in various retinal diseases.
"We're committed to finding ways to detect diseases like macular degeneration, diabetic retinopathy, and glaucoma long before structural changes in the eye appear, so we can initiate treatment as soon as possible," explains Dr. Rosen. "And thanks to the tireless work of our team of dedicated researchers at the Einhorn Center, we are actively advancing towards our goals."
Clinical Trials
Since its inception, The Einhorn Clinical Research Center, has hosted many exciting vision research studies, providing patients with access to diagnostic and therapeutic technologies years before they're generally available. Drawing investigators from all eye subspecialties, the center is focused on exploring the clinical benefits of a wide array of innovative medical and surgical techniques, therapeutics and prevention programs, as well as expediting transfer of new laboratory discoveries in diagnostics methods and treatment to our patients. Numerous eye clinical trials are open to patients for enrollment.