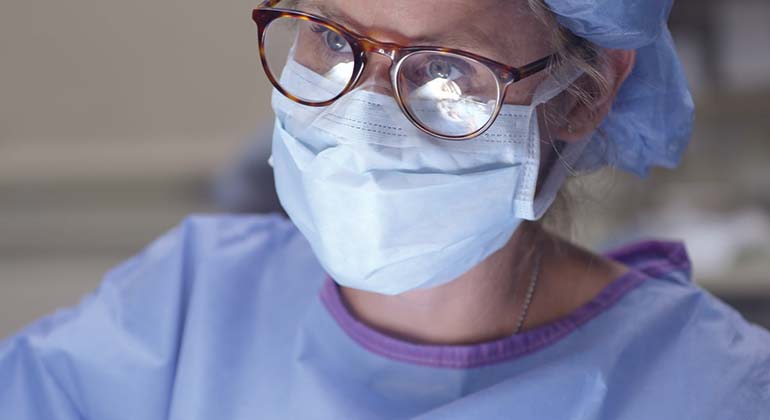 Pediatric Glaucoma Treatments
New York Eye and Ear Infirmary of Mount Sinai (NYEE) is one of the region's largest and most active treatment centers for pediatric ocular diseases like glaucoma. Our skilled, board-certified glaucoma specialists work with the latest diagnostic equipment, surgical tools, and medicines to treat the most difficult and complex cases. These sometimes involve infants who are only several days old, which few facilities are equipped to handle. We bring a multidisciplinary approach to each patient, utilizing a full range of pediatric eye care specialists as well as the extensive inpatient and outpatient services of NYEE.
Pediatric glaucoma is a highly manageable condition, giving children the ability to lead full lives when treated promptly and correctly. Parents should bring their child to a pediatric ophthalmologist if they notice any symptoms, or are suspicious their child may have an eye problem.
Symptoms of pediatric glaucoma include:
sensitivity to light
refusal to open the eyes
excessive tearing
eyes that look bigger than average
corneas that appear hazy
excessive blinking
What are the Treatments for Pediatric Glaucoma?
Treatment for pediatric glaucoma often involves a combination of medication (eye drops and oral medicines) and surgery. Medication may play a useful role in initially lowering intraocular pressure, but surgery is needed in most cases to restore the normal outflow of fluid. When surgery is indicated, a procedure known as trabeculotomy is often performed first to open up the normal drainage channels and lower the pressure within the eye. Glaucoma surgeons at NYEE have further improved on the efficiency and safety of trabeculotomy by using flexible, illuminated micro-catheters. This advanced technique, performed in only a few eye centers nationwide, takes about 30-45 minutes and usually eliminates the need for additional surgeries. In cases where trabeculotomy does not sufficiently lower the IOP, the surgeon may need to perform either trabeculectomy or tube shunt surgery to bypass the poorly functioning drainage channels and drain fluid.
How Should I Care for My Child's Eyes After Glaucoma Surgery?
To be effective, all treatments for pediatric glaucoma require regular post-surgical visits to the ophthalmologist to closely monitor the condition and any changes in vision or eye function. For children under the age of 10, visual rehabilitation with eyeglasses and patching (when appropriate to strengthen a "lazy eye") are critical to achieving the best visual outcome after glaucoma surgery. With timely treatment and aggressive follow-up, the prognosis for children with glaucoma is better today than ever before.