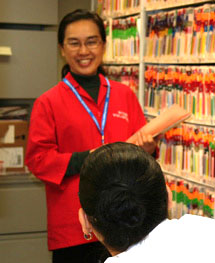 Volunteering at New York Eye and Ear Infirmary of Mount Sinai (NYEE) is a rewarding opportunity that matches caring people with services that provide help and comfort to our patients and their families.
Our volunteers range in age from high school students to retired professionals, from all walks of life and many different cultures, but all are a special kind of person who freely gives of his or her time and energy. They serve diligently to add those extra measures to comfort the sick, people who need to be guided, or families who need assistance. In their highly valuable positions, volunteers make things happen...whether it is directing visitors and patients at the Information Desk, helping stock vital areas such as the Operating Rooms, or reading to a patient recovering from surgery.
Why Volunteer?
People volunteer for many reasons:
A chance to add credentials when seeking job references
A chance to make new friends
A chance for younger people to learn more about health care professions
A chance for retired persons to remain active in the community
Above all, volunteers enjoy real satisfaction that comes from helping others
How to Become a Volunteer?
The entire process takes about two weeks. Once all the prerequisites are met, you are ready to enter the rewarding world of volunteerism!
Call the Volunteer Services Department to schedule an appointment for an interview.
During the interview, we will discuss your special skills and interests and review available options.
After the interview, reference forms are sent to people who know you well and as well as a medical form for your family doctor.
You must receive medical clearance for tuberculosis and rubella before you can begin volunteering. These tests can be done free of charge in NYEE's Employee Health Service.
Volunteering Opportunities
At NYEE we have many areas that have a need for volunteers. Some of the areas in which volunteers find challenging assignments include:
Administration
Admitting
Ambulatory Care Centers
Central Supply
Communication Sciences
Finance
Food Service
Glaucoma Services
Housekeeping
Human Resources
Information Desk
Intraocular Lens Office
Laundry
Mailroom
Managed Care
Medical Library
Medical Records
Nursing Administration
Nursing Units
Operating Room
Ophthalmology
Orthoptics
Otolaryngology
Pharmacy
Plant Operations
Pre-Surgical Testing
Radiology
Recovery Room
Registration
Retinal Diagnostic Center
Social Services