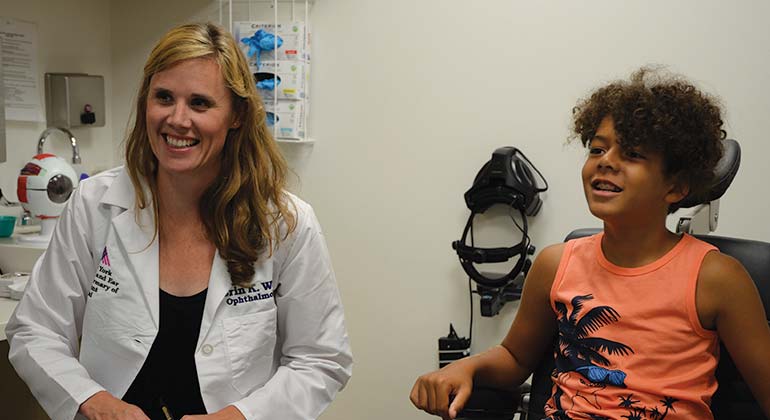 Though rare, childhood glaucoma may be more prevalent than once thought, given the number of cases that are misdiagnosed or not diagnosed at all. Children may be born with the condition, or develop it later on. Approximately 80 percent of children with primary congenital glaucoma will present within their first year of life. Like glaucoma in adults, childhood glaucoma causes increased intraocular pressure within the eye, which, if not detected and treated, can cause significant and permanent optic nerve damage and vision loss.
What are the Types of Pediatric Glaucoma?
Glaucoma in children has several clinical names and different causes, including the following:
Congenital glaucoma, which affects about 1 in 10,000 children at birth. It results from abnormal development of the eye's drainage system, causing fluid build-up within the eye, elevation of the eye pressure, and damage to the optic nerve. Parents are often the first to notice this condition through warning signs like their child's sensitivity to light, refusal to open the eyes, and excessive tearing. Other indicators are eyes that look bigger than average and corneas that appear hazy.
Juvenile glaucoma, which develops in children between the ages of 4 and 10. Juvenile glaucoma may be associated with a secondary systemic condition, such as Sturge-Weber syndrome (children born with port wine stains on the forehead and upper eyelid), Axenfeld-Rieger syndrome, and Peter's anomaly. Symptoms that can alert parents and children themselves (particularly as they get older) to the disease include sensitivity to light, problems adjusting to the dark, excessive blinking, impaired vision, and consistently red eyes.
Juvenile open-angle glaucoma (JOAG), which refers to the onset of open-angle glaucoma in people between the ages of 10 and 35. The disease is often silent until it has progressed to advanced stages.