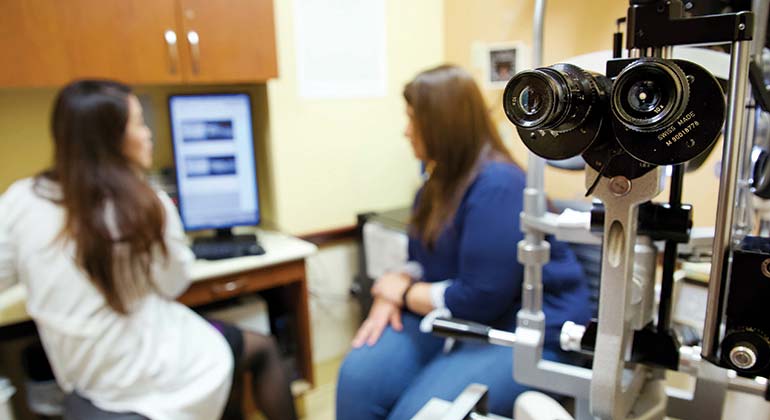 Diagnosing Retinal Diseases
As a leading Center of Excellence for management of the most difficult cases of retinal disease, New York Eye and Ear Infirmary of Mount Sinai (NYEE) employs the most advanced imaging technologies available to ensure accurate and complete diagnoses. NYEE's Retina Center and Advanced Retinal Imaging Laboratory are staffed by highly trained imaging specialists who see thousands of patients each year. In addition to helping doctors and their patients to visualize and understand the diseases impacting the retina, our retina specialists are actively involved in the development of new technologies for the advancement of this field. We participate in research that furthers our understanding of the normal and diseased retina, as well as clinical trials to study the value of new therapies on various disease states.
The latest diagnostic imaging technologies include the following:
Spectral-Domain Optical Coherence Tomography (SD OCT)
This rapid, noninvasive imaging technology is capable of producing cross-sectional images of the human retina with extremely high resolution (approximately six microns). This level of detail is critical to the early detection of vascular occlusion, macular holes and membranes, macular edema (swelling), and fluid accumulation due to damaged blood vessels from diabetic retinopathy and age-related macular degeneration. SD OCT is also used to monitor ongoing responses to treatment.
Wide-Field Digital Fundus Photography
Our imaging specialists employ the Optos and Spectralis, a high resolution, wide-field digital fundus camera, for examining and evaluating the periphery of the retina. The peripheral retina is the site of many retinal diseases, which are difficult to detect with conventional imaging devices, including retinal tears and detachments, proliferative diabetic retinopathy, uveitis, and choroidal tumors. Wide-field imaging for pediatric patients is also available in the surgical suite using the RetCam II instrument.
Fluorescein (FA) and Indocyanine Green (ICG) Angiography
This technique illuminates the retinal blood vessel using an intravenous injection of colored dye. Rapid sequences of photographs or high-speed laser scans can capture the filling of the blood vessels and reveal defects in the walls or the presence of abnormal capillaries. The patterns of blocked or leaking blood vessels help identify the nature of the retinal disorder.
This technique is available on a variety of instruments and formats allowing the physician to choose the device best suited for the suspected area of the retina involved.
Spectral Domain and Swept Source OCT Angiography
This new high-resolution technique reveals the blood vessels at the capillary level in 3-dimensions using a non-invasive imaging method. In place of leakage of injected dye, it reveals the specific depth and the microstructure of vascular disease. It also can be used to detect the earliest evidence of diabetic retinopathy, reduced blood flow in glaucoma, and other optic nerve disorders.
Ultrasound
For larger structures and in cases of opacity of the vitreous, ultrasound provides a non-invasive window into disorders of the retina, vitreous, and choroid. These include vitreous hemorrhage, tumors, intraocular inflammation, and infection. High resolution imaging of the front of the eye is critical for the diagnosis of glaucoma and problems of the lens before and following cataract surgery.
Electrophysiology
Disorders in the electrical response of rod and cone photoreceptors to light stimulation are identified using full-field electoretinography, electrooculography, visually evoked potentials, and dark adaptometry. Many of the disorders diagnosed with these instruments are hereditary in nature but some may be degenerative, such as age-related macular degeneration. Multifocal electroretinography is also useful for identifying macular dysfunction in otherwise healthy retinas, revealing early evidence of drug toxicity or localized functional injury.
Computerized Amsler Grid
New York Eye and Ear physicians have the most advanced form of Computerized Amsler Grid testing, the Preferential Hyperacuity Periperimery (PHP) instrument for detecting early age-related macular degeneration. This device, which is now available for at-home monitoring in high-risk patients, is useful for more frequent testing if patients can't come in for regular checkups. Earlier recognition of new problems can help identify persons in need of immediate attention.
Microperimetry
Subtle visual losses can also be diagnosed non-invasively using high resolution visual testing of specific retinal features, or of designated locations on the macula. This testing is quantitative and more sensitive and precise than conventional visual fields for uncovering defects in a patient's visual world.
Oximetry
Retinal oximetry is a new method for studying the metabolic function of the retina. Utilizing fundus images at wavelengths with different sensitivity to oxygenated hemoglobin in the blood, analysis can detect areas lacking in oxygen concentration before evidence of structural changes can be detected. Researchers at New York Eye and Ear Infirmary have been using this technique for early recognition of vision changes caused by diabetic retinopathy.
Macular Pigment Density Testing
Dietary pigments lutein and zeaxanthin, which are concentrated 1,000 times the level found in the blood within the retina, are critical to the health of the macula and may prevent damage due to metabolic stress, as in diabetes, or progression of age-related macular degeneration. These pigments can be measured using specific devices to determine whether dietary intake is sufficient and adequate protection is in place.
Adaptive Optics Imaging
Adaptive optics provide high-resolution images of retinal structures in patients down to the level of single cells, such as rods, cones, pericytes, and components of microaneurysms. New York Eye and Ear Infirmary of Mount Sinai (NYEE) is the only clinical center in the tri-state region to offer this special type of imaging, which can detect the smallest structural changes, often overlooked by conventional methods.
Advanced Retina Imaging Laboratory
Scientists and clinicians at NYEE are actively engaged in developing and improving new and existing approaches to detecting the earliest signs of retinal disease. Additional early stage instruments such as quantitative autofluorescense, hyperspectral imaging, and mitochondrial oxidative stress assessment are currently being tested and will become available for more generalized clinical application as they reach the necessary milestones for reliability, consistency and interpretation.