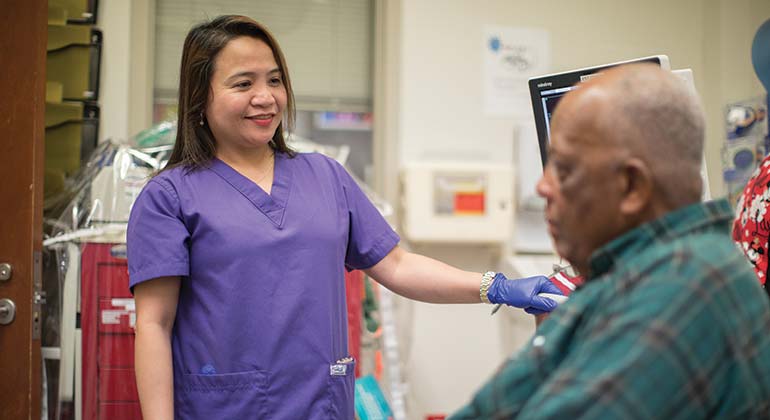 ENT Clinic Telemedicine Appointments
During the Covid-19 pandemic, your health and safety is our top priority. NYEE is reducing the number of patients who have to physically visit the ENT Clinic to discuss their care. At this time, NYEE is offering telemedicine appointments to new and existing patients with URGENT medical issues. These virtual visits allow our doctors to call you during a scheduled time to discuss your condition, prescribe medication if needed, and/or determine whether you need to come in for an in depth examination.
We appreciate your understanding that most ENT conditions require a physical examination. This is why only certain conditions/problemsare able to be appropriately addressed through a telehealth consultation.
To schedule a telemedicine appointment, call 212-979-4422 between 8 am and 4 pm, Monday-Friday. Our nurse will document your questions and concerns and relay them to the physician. The doctor will decide, on a case-by-case basis, whether a phone or video encounter should be scheduled. In some cases an in-office follow up may be necessary.
By Phone:
If you are scheduled for a phone chat with a physician, he/she will contact you at the time of your appointment.
By Video:
If you are scheduled for a video visit with a physician, directions will be emailed to you so you can prepare for the visit.
We utilize a secure, internet-based, video application called MediSprout for Patients (also known as V2MD), which can be used via the app for online appointments, via mobile phone, or tablet. Download the MediSprout for Patients app from your App Store (itunes or google play stores). If using a desktop computer, the ENT Clinic staff will provide instructions for the V2MD website. Please ensure you are accessible and logged in on MediSprout at least 15 minutes before your scheduled appointment as this starts the visit and allows a NYEE doctor to see and talk with you.
To prepare for your telemedicine appointment, please be ready with a list of medicines you take, and any questions you have.
Please note: If you have an urgent health issue NOT related to ears, nose or throat, please go to Mount Sinai Beth Israel Emergency Department located at 16th Street and Nathan D. Perlman Place, between First and Second Avenues.
General ENT Clinic Information
The ENT Clinic at New York Eye and Ear Infirmary of Mount Sinai (NYEE) does not offer walk-in services. Patients need to make an appointment in order to be seen at the Clinic.
If you have an emergency ear, nose, or throat condition that requires immediate attention, please proceed to the Mount Sinai Beth Israel Emergency Department at 16th Street and First Avenue, or to your nearest Emergency Department.
Our Services
The dedicated and highly trained physicians and support staff at the ENT Clinic are experts in the treatment of a wide range of ear, nose, and throat disorders, from sinus problems, ear infections, and swallowing disorders to all other general otolaryngology issues. Our subspecialty services include:
Allergy
Comprehensive Ear, Nose, and Throat
Facial Plastics
Head and Neck Oncology
Minor Surgery
Otology
Rhinology
Voice and Swallowing
ENT Clinic Hours of Operation
Please schedule your appointment for the ENT Clinic in advance by calling 212-979-4422.
Hours of operation are: 8:30am-4:30pm, Monday­-Friday.
Preparing for Your Visit
Please review the following simple guidelines in order to help your visit run smoothly:
Arrival: Please arrive no more than 30 minutes before your appointment time to register.
What to bring: All patients must bring their Medicare, Medicaid, and/or insurance cards and identification for each visit.
Identification: All patients must show identification at time of visit, preferably picture ID with proof of address.
Referrals: If you belong to a managed care plan, a referral from your primary care doctor is necessary. It is your responsibility to obtain the referral from your doctor prior to your visit with us, and to bring it with you when you come for your appointment. Please have the referral made out to New York Eye and Ear Infirmary of Mount Sinai. If you do not have a referral you may be responsible for fees associated with the visit.
Follow-up Appointment: If the doctor asks you to return for a follow-up visit, please schedule that appointment at the receptionist discharge desk before you leave.
ENT Clinic Fees
Please review the following helpful guidelines regarding fees and payments:
Each clinic visit for self-pay patients is $178.00.
The hospital only bills for hospital services. In addition to the hospital bill, you may receive multiple bills from one or more service providers. Each provider (physician, diagnostics, lab, anesthesiologist, radiologist, and pathologist) will be submitting a claim to your insurance carrier for services provided. You are responsible for any part of these charges not covered by your insurance.
Every time you come for an appointment, you must first register and pay any required co-pay. You will receive a receipt for all registrations.
Payments can be made with MasterCard, Visa, American Express, Discover, certified checks, and cash.
Please have the referral made out to New York Eye and Ear Infirmary of Mount Sinai. If you do not have a referral you may be responsible for fees associated with the visit.
Please take the time to learn more about billing and insurance at NYEE.