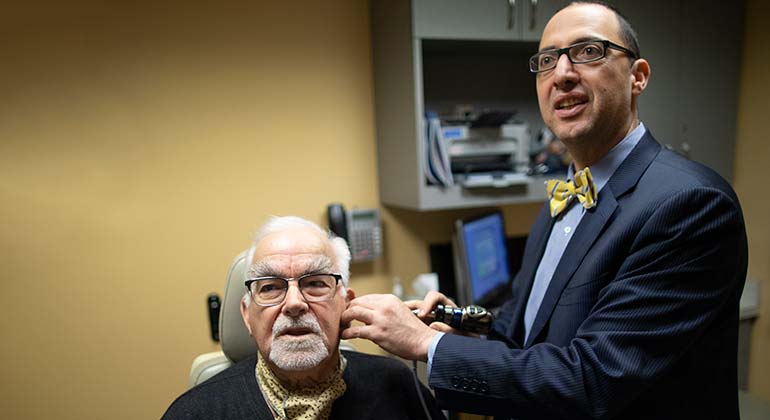 Ear, Nose, and Throat Services
The Department of Otolaryngology at New York Eye and Ear Infirmary of Mount Sinai (NYEE) provides a full range of superb health care services for all conditions of the ears, nose, throat, sinuses, head, and neck. Our physicians are experts in the treatment of sinus problems, voice and throat conditions, hearing disorders, sleeping and airway difficulties, and cosmetic issues of the face and neck. With extensive experience handling complicated cases, as well as a high volume of common procedures, our teams are also skilled in treating children and have particular expertise handling vascular birthmarks and malformations. If advanced oncology care is needed, our head and neck surgeons provide leading-edge treatments for cancer of the mouth, larynx, nose, sinuses, throat, tonsils, tongue, thyroid, and parathyroid.
Drawing on the newest research and best available technologies, our ENT specialists will partner with you and your family to design the treatment plan that will achieve the best possible outcome.
General ENT
A general ear, nose, and throat specialist is often the first step for many patients with routine disorders or concerns. At NYEE, we treat patients for a wide range of general ENT conditions, including nasal and allergy disorders, chronic sinusitis, nasal obstructions, ear infections, nasal polyps, nose bleeds, deviated septum, hearing and balance disorders, thyroid and parathyroid conditions, sleep issues, and salivary gland disorders. In addition to medical therapy, many procedures are performed in the office, ranging from nasal endoscopy and laryngoscopy, to ear tube insertion, and ear wax removal. When more complex care is needed, our service acts as a portal to NYEE's experienced team of ENT sub-specialists.