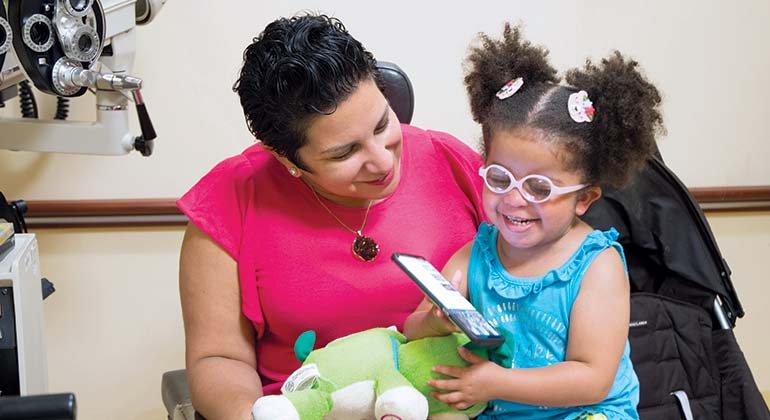 Pediatric Ophthalmology and Adult Strabismus
Treating children with vision disorders requires special skills, techniques, and training, which the ophthalmologists and orthoptists at New York Eye and Ear Infirmary of Mount Sinai (NYEE) are uniquely equipped to provide. Ranked among the nation's best hospitals, we routinely diagnose and treat childhood conditions ranging from the most common, like strabismus, amblyopia, and refractive errors (nearsightedness and farsightedness), to the more severe, such as childhood glaucoma, cataracts, and retinal diseases. We also maintain one the busiest and most experienced strabismus programs for adults in the New York metropolitan area. With strong support from our team of orthoptists—non-surgical specialists who test and evaluate eye movement and alignment disorders like strabismus, amblyopia, and nystagmus—we help people of all ages achieve excellent outcomes. For that reason, we have served for years as an active referral center for the most complex strabismus cases.
When it comes to treating children and infants, experience sharpened by the volume of cases we handle daily is particularly beneficial. Our eye care professionals, for example, know how to pick up on visual cues and subtle signs critical to diagnosing and treating kids that others might miss. And through the use of special drops and advanced tools, they know how to refract children for eyeglasses even when verbal direction from them is minimal.
Oftentimes, the treatment for your child may be as simple as eyeglasses, patches, exercises, or drops; other times it might require surgery. Regardless of the complexity, all patients have access to the latest imaging and vision testing technologies at New York Eye and Ear Infirmary, as well as to a multidisciplinary range of ophthalmic specialists and sub-specialists under one roof. Indeed, we are one of the few centers anywhere with the skills to treat infants as young as several months for pediatric glaucoma and corneal disease.
We are also aware of your needs as parents, and therefore take the extra time to explain the intricacies of your child's treatment and ongoing management of their condition. Above all, we know how essential good vision is to your child's educational and physical development.