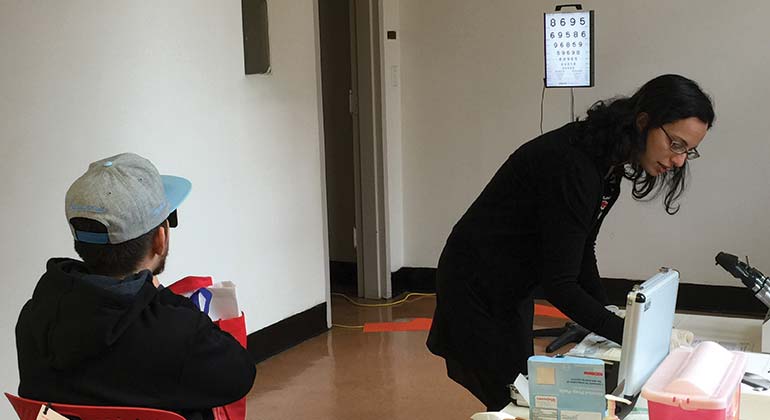 New York Eye and Ear Infirmary of Mount Sinai (NYEE) was established in 1820 to meet the eye care needs of New Yorkers, especially the working poor. In keeping with its heritage, NYEE continues to care for the community. We take pride in supporting local activities and sharing our services and resources.
To better understand and serve the public, NYEE participates in a regular analysis of the needs and assets of its community. This comprehensive Community Needs Assessment along with the Community Service Prevention Plan (CSPP)—updated and submitted annually to the NYS Department of Health—helps to set priorities and prevention agenda responses based on community health indicator data.
Giving Back Locally and Globally
Throughout the year we partner with senior centers and community centers to provide vision and hearing screenings. Our physicians participate in "Lunch & Learn" lectures and presentations at major organizations and associations to educate the public about preventing and treating eye disease as well as hearing/ENT and balance topics. NYEE also attends corporate health fairs and events throughout the city providing information on our specialty services.
Many of our physicians conduct annual global mission trips, performing surgery in developing countries. After Hurricane Maria devastated the island of Puerto Rico, many NYEE staff members volunteered to travel to Puerto Rico to provide much needed emergency relief to patients in communities cut off from services and medical care.
We also host several ophthalmology and otolaryngology support groups that provide psychological, emotional, and social support and resources to help patients adjust to emotional and practical changes, so they can move forward. Members are given a forum to share their stories, ask questions, and find out about useful resources in a comfortable and supportive environment.
The spirit of giving back to the community will always be a part of NYEE.
Community Resources
NYEE is pleased to make the following helpful resources available to the members of our community:
Charity Care: Mount Sinai recognizes that there are times when patients in need of care will have difficulty paying for the services provided. The Mount Sinai Financial Assistance Policy provides discounts to qualifying individuals based on their income, in addition to helping eligible patients apply for free or low-cost insurance.
Health Library: The Mount Sinai Health Library is designed to educate patients about thousands of medical topics, including diseases, conditions, treatments, and procedures, with in-depth answers to a wealth of questions about causes, risk factors, signs, symptoms, and prevention.
Interpretation Services: The Interpretation Services Department offers language services for international and non-English speaking patients, as well as services for hearing and visually impaired patients.
Low Vision Resource Compendium: NYEE's Institute of Continuing Medical Education provides a Compendium of Low Vision Services and Aids in the Tri-state area as a service to our patients and physicians.
Museum Tours for People with Low Vision: The Rubin Museum offers free verbal description and sensory tours for visitors who are blind or partially sighted. Reservations are required, as space is limited, so please contact the reservations office by phone (212-620-5000 x319) or by email in advance of your visit.
Support Groups at NYEE: NYEE hosts support groups for patients with eye, ear, nose, and throat conditions.
NYEE Annual Holiday Eyeglass Donations Drive
Each year, from October through December, NYEE hosts a drive for eyeglass donations. Glasses in good condition are sent to New Eyes for the Needy, a New Jersey-based, non-profit volunteer organization whose main purpose is to provide better vision to the poor in the United States and throughout the world.
Adult and children's prescription glasses, reading glasses, as well as prescription sunglasses, are accepted. If you would like to make a donation, stop by NYEE at 310 East 14th St., main entrance and look for the collection box.
Donating your old glasses is a small way to take part in the spirit of the season. Your generosity could have a life-altering impact on the recipient. Thank you for giving the gift of sight to those who may not otherwise have the opportunity to obtain glasses.