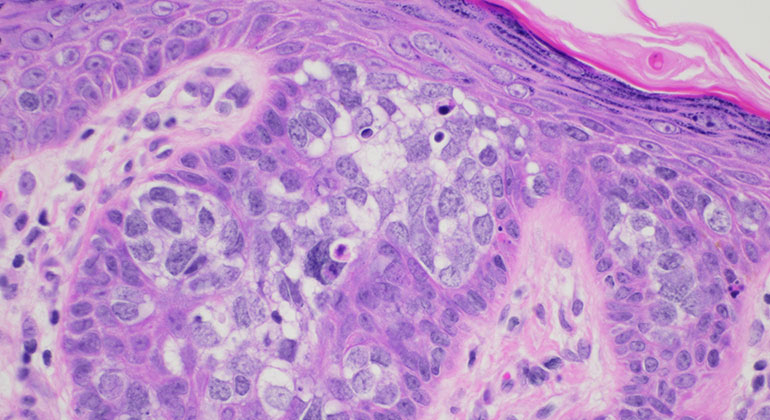 The Ophthalmic Pathology Service at New York Eye and Ear Infirmary of Mount Sinai (NYEE) plays a key role in patient care. Ophthalmic pathologists have comprehensive knowledge about diseases of the eye and its neighboring tissues. After examining the tissue samples, pathologists provide the practicing ophthalmologist with information about the cause, development, and prognosis of ocular disease, which is used to help determine course of treatment.
With a high volume of patients coming to NYEE's clinics and faculty practices, our pathologists process nearly 10,000 cases each year and have deep expertise in all eye diseases. Aided by our state-of-the-art laboratory facilities, the Department of Pathology and Laboratory Medicine at NYEE is a leader in ophthalmic pathology services and a major referral center for the Metropolitan area and the Northeastern United States.
The Department of Pathology and Laboratory Medicine provides timely, critical support for the laboratory needs of the clinic population, inpatients, and ambulatory surgery patients. Continued modernization of specimen and data processing in the Clinical Laboratory has had a significant impact in improving NYEE's ability to process patients for surgery quickly and efficiently without sacrificing quality. In addition, a Molecular Pathology Laboratory has recently been added to the battery of facilities in the Department. Our lab employs a full-time research technician dedicated to genetic analysis of orbital lymphomas, ocular melanoma cell lines, and squamous cell cancers of the head and neck region.
Laboratory Specimen Collection Manual
If you require pathology services from NYEE's Department of Pathology and Laboratory Medicine, please visit our Specimen Collection website to find detailed information and our policies and procedures for the collection, labeling, packaging, storing, and transporting of specimens.