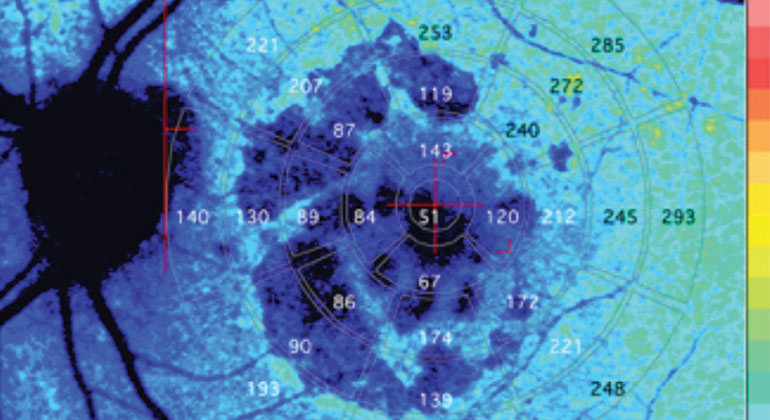 Eye and Vision Research Institute at New York Eye and Ear Infirmary of Mount Sinai
Mount Sinai's Eye and Vision Research Institute (EVRI) is a collaboration of investigators working to advance the boundaries of knowledge in the visual sciences. The Institute draws upon our joint history of clinical excellence and innovation to create the future of eye care through new discovery and innovative therapies.
Sharing Expertise to Overcome Knowledge Barriers
New York Eye and Ear Infirmary of Mount Sinai (NYEE), well-known for its clinical and surgical expertise, combined with the rich legacy of cutting-edge science at the Icahn School of Medicine at Mount Sinai forms the core of the EVRI initiative. Advancements in nanotechnology, imaging, and bioinformatics will be directed toward research in basic sciences, outcomes research, and translational efforts to directly help patients. EVRI will have the benefit of access to research centers and academic departments throughout the Mount Sinai Health System, including The Friedman Brain Institute, the Icahn Institute for Genomics and Multiscale Biology, and The Black Family Stem Cell Institute.
Combining the strengths of these entities will foster the incorporation of the latest scientific innovations in genetics, stem cells, and regenerative biology, along with advanced ocular imaging, to better understand disease and find ways to protect the eye and prevent blindness.
Areas of Focus
NYEE, a major regional and international center for eye surgery, as well as clinical and outcomes research, features unparalleled, state-of-the-art imaging capabilities within the Einhorn Clinical Research Center, making it a key element in EVRI's current roster of investigative initiatives, which includes research into diseases of the retina. Scientists studying human retinal diseases will have access to NYEE's wealth of clinical imaging and histopathological data, including vitreous humor tissue samples, for bioinformatics and outcomes research. Our resources include:
Vitreous Bank: Progress of molecular diagnostic studies of visual disorders, such as macular degeneration and diabetic retinopathy, has been limited by a lack of vitreous humor tissue samples. Tapping into NYEE's high volume of surgical cases, which includes more than 2,000 vitrectomy surgeries each year, EVRI's vitreous bank will be a valuable source for vitreous humor tissue samples. As a new component of Mount Sinai's Biobank, it will invite collaboration with scientists worldwide encouraging new explorations into translational retina research.
Optic Nerve Reading Center: NYEE's expertise in ophthalmic imaging is being enlisted to provide a new asset for glaucoma and neuro-ophthalmic clinical studies, an Optic Nerve Reading Center. Employing the cutting-edge ocular imaging instrumentation available at NYEE's Einhorn Clinical Research Center, clinical researchers will have access to the latest high resolution technologies to enhance visualization of the optic nerve and retina, which will supplement standard clinical imaging.