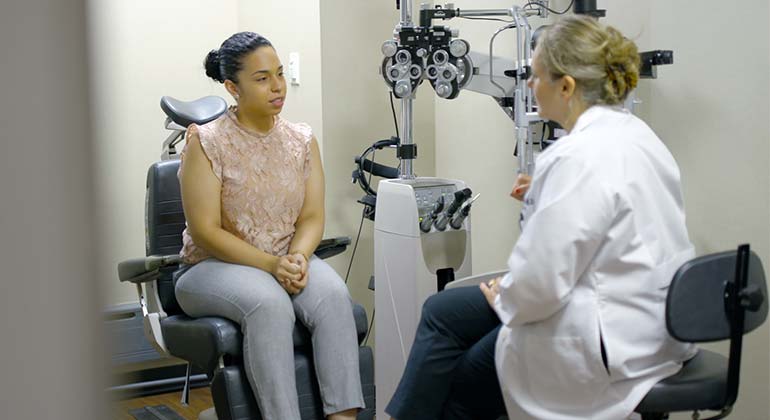 Comprehensive Vision/Eye Care
Eye health is a vital part of overall health, which is why primary eye care is the first step for many patients with routine ophthalmic disorders or concerns. At New York Eye and Ear Infirmary of Mount Sinai (NYEE), our Comprehensive Vision/Eye Care Service provides screenings and treatments for a wide range of conditions affecting the eye and its surrounding structures, including cataracts, glaucoma, diabetic retinopathy, macular degeneration, dry eye, infections and injuries, as well as nearsightedness and farsightedness that may require glasses or contact lenses. Symptoms such as pain, redness, sensitivity to light, tearing, and floaters in the field of vision may also underscore the need for a professional ophthalmic examination.
Our service is home to board-certified ophthalmologists and optometrists, as well as specially trained support staff whose daily caseload makes them the most experienced and knowledgeable in the New York metropolitan area. Our team is further backed by the full resources and expertise of NYEE, which is the nation's oldest specialty hospital.
Our specialists are highly skilled in providing the following range of services:
Routine annual eye and vision exams
Refraction services (prescriptions for eye glasses and referrals for contact lens fittings)
Management of common eye conditions, such as cataracts, dry eye, tearing, glaucoma, and diabetic eye
Management of complex eye disease
We perform a range of diagnostic tests, including visual field testing, corneal topography, slit lamp evaluation, and optic nerve and macular CT scans. While our eye specialists routinely see patients for advanced eye diseases, and frequently provide second opinions, if more complex care is needed, our Comprehensive Vision/Eye Care Service acts as a portal to NYEE's experienced team of sub-specialists in fields like glaucoma and diseases of the cornea and retina, as well as oculoplastic, orbital, and reconstructive surgery.