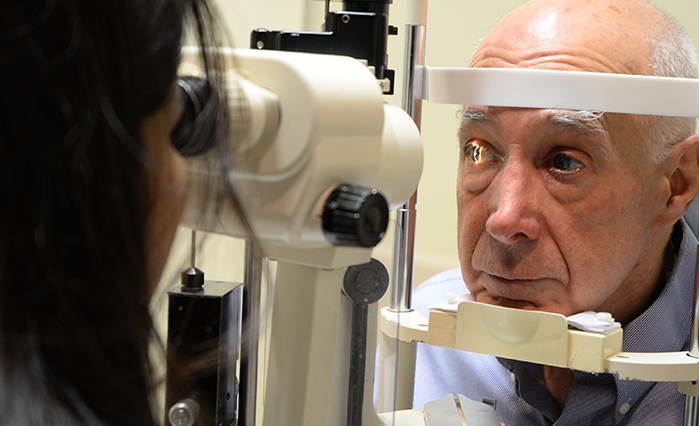 The Specialists in the Department of Ophthalmology of New York Eye and Ear Infirmary of Mount Sinai (NYEE) have expertise in managing and treating all diseases and disorders of the eye. Our Board certified physicians are leaders in comprehensive ophthalmology and ophthalmic subspecialties.
Cornea, External Diseases, and Refractive Surgery
The Cornea, External Diseases, and Refractive Surgery Service at NYEE treats patients with disorders of the cornea, conjunctiva, and sclera. The service also provides clinical, research, and surgical training to residents and fellows.
Eye Trauma
NYEE is a national eye trauma center with expertise in treating patients with severe ocular trauma.
Glaucoma
The Glaucoma Service at NYEE is at the forefront of innovation in diagnostic and therapeutic advances in the understanding and treatment of glaucoma. Research into the causes of glaucoma is leading to innovative, accurate, and successful methods of treatment.
Neuro-Ophthalmology
The Neuro-Ophthalmology service treats patients present with a variety of neuro-ophthalmic illnesses, including optic nerve problems, cranial neuropathies, neuromuscular difficulties, orbital and intracranial tumors, systemic inflammatory disease, neurovascular disease, and disorder of visual perception. Only those patients requiring neurosurgical evaluation and treatment are not treated at NYEE. We perform the diagnostic work-up for all neuro-ophthalmology patients prior to any referral.
Ocular Immunology and Uveitis
The Ocular Immunology and Uveitis Service at New York Eye and Ear Infirmary of Mount Sinai provides consultation services for over 8,000 clinic patients annually. This service comprises the largest staff of attending physicians in the uveitis subspecialty at a single academic center in the tri-state area. While the majority of patients referred are those with uveitis, the service consults on other inflammatory eye diseases such as scleritis, episcleritis, optic neuritis, interstitial keratitis, cicatrizing conjunctivitis, and post-ocular surgery inflammation.
Ocular Oncology
The Ocular Oncology Service at NYEE include specialized tumor photography, angiography, computerized optical coherence tomography (OCT), and fundus autofluorescence imaging (FAF). In addition, full-time ophthalmic ultrasound technicians perform high frequency imaging of the anterior eye, as well as low frequency ocular and orbital imaging.
Oculoplastic and Orbital Surgery
The Oculoplastic and Orbital Surgery Service at NYEE perform all types of corrective and cosmetic surgery to the eyelids, eyebrow, forehead, and tear duct system, as well as repair orbital trauma and congenital problems in adults and children.
Ophthalmologic Pathology
The Department of Pathology and Laboratory Medicine provides timely, critical support for the laboratory needs of the outpatient centers, inpatients, and ambulatory surgery patients.
Pediatric Ophthalmology and Strabismus
The Pediatric Ophthalmology, Strabismus, and Specialty Testing Service at NYEE has a strong reputation for quality care, accommodating approximately 5,600 patients per year. Patients referred to the service by private ophthalmologists in the region include adults as well as children with binocular problems (diplopia, amblyopia, and post cataract binocular problems).
Retina
The Retina Service of New York Eye and Ear Infirmary of Mount Sinai treats all retina-related conditions, from retinal detachment to retinal tears.