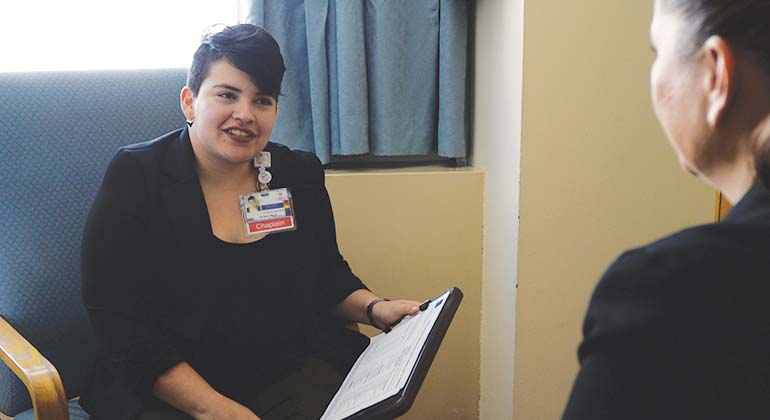 At New York Eye and Ear of Mount Sinai (NYEE), we are committed to healing the body, mind, and spirit. As part of the health care team, chaplains contribute to caring for the whole person. We know dealing with an illness or injury may be confusing and stressful, and we encourage you to call upon our chaplains for emotional and spiritual support, counseling, religious ritual, and prayer.
Our spiritual care staff is interfaith and highly respectful of everyone's individual beliefs. They offer counseling to help patients and their families find comfort and hope while experiencing challenges.
The scope of our services includes:
One-on-one spiritual and emotional support
Prayer, blessings, and rituals
Meditation and guided imagery
Religious literature
Contact with your or your family's faith community for sacramental services
Counsel, as requested, in ethics consultations
Chaplains at NYEE
Our compassionate team of chaplains is committed to making sure the needs of each individual patient are met.
Silvia Mejia, MDiv
Chaplain Resident
Lindsey Briggs, MDiv
Chaplain Resident

Jensen Jones, MDiv
Chaplain Resident
Rabbi Jo Hirschmann, BCC, ACPE
ACPE Certified Educator
Director of Spiritual Care at Mount Sinai Beth Israel
Contact Us
To arrange a visit, you may ask your nurse to contact your unit's chaplain. The Spiritual Care and Education Department can be reached weekdays from 8:30 am to 4:30 pm at 212-979-4793. If you need assistance outside of these hours, please leave a message and we will respond the next business day.
Spiritual Care and Education Resources at Mount Sinai Health System
For more information about spiritual care, education resources, and volunteer opportunities available at the Mount Sinai Health System, go to: