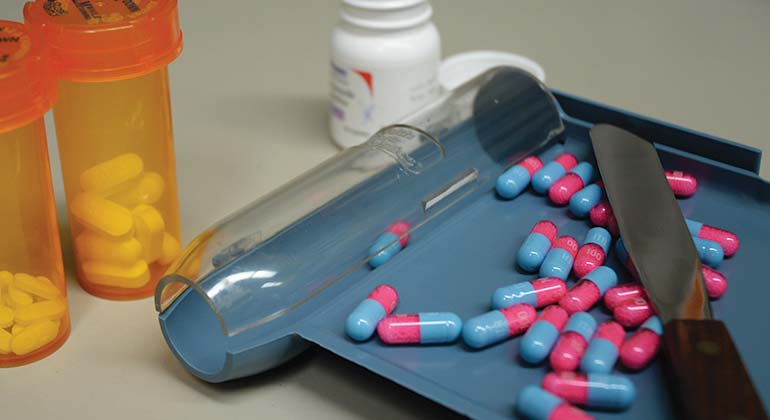 Department of Pharmacy Services
The Department of Pharmacy Services at New York Eye and Ear Infirmary of Mount Sinai (NYEE) is conveniently located in the hospital and is supported by a highly trained staff delivering pharmaceutical services for inpatients and ambulatory patients. Our knowledgeable pharmacists are part of your care team, offering patient education and medication counseling. In addition we support health care professionals and provide drug information to medical and nursing staff.
Medication safety is a priority. All drugs are procured, stored, and dispensed according to federal, state, and city laws and regulations. Many of the medications stocked in the Pharmacy have a Material Safety Data Sheet (MSDS), which also educates staff members regarding the proper handling and storage of hazardous medications.
NYEE's formulary of drugs is reviewed and maintained by the Pharmacy and Therapeutics Committee. All requests for new additions to the formulary are first reviewed by the committee for safety and efficacy. Quality and drug utilization reviews are performed to monitor the usage and effectiveness of formulary drugs.
Inpatient Pharmacy Services
Patients may utilize our Pharmacy Services by calling or stopping by the Main Pharmacy in the hospital, which is located on the lower level of the North Building. We provide pharmaceutical care and medications for all our surgical and non-surgical patients who are treated throughout the hospital.
Main Pharmacy Hours
Monday to Friday, 7am –11pm
Saturdays, 8am – 5pm
Sundays, 9am – 5pm

Main Pharmacy Location
New York Eye and Ear Infirmary of Mount Sinai
Basement Level, North Building
310 East 14th Street
New York, NY 10003
Tel: 212-979-4379
Outpatient Pharmacy Services
Our Pharmacy team also serves surgical and ambulatory care patients and is always available to answer questions, provide reliable counsel on the proper use of your medications and potential side effects, and respond to any questions.
Our outpatient pharmacy provides:
Specialty prescription medications and over-the-counter products for eye, ear-nose-throat, and dermatologic conditions
Compounded medications that may not be available at retail pharmacies
Most prescription benefit plans are accepted, including Medicare Part D and Medicaid. Personal checks over $15.00 are accepted.

Outpatient Pharmacy Hours
Monday through Friday, 9am–5:45pm
Saturdays, 9:15am–12:15pm
Sundays, Closed
Outpatient Pharmacy Location
New York Eye and Ear Infirmary of Mount Sinai
First Floor, North Building
310 East 14th Street
New York, NY 10003
Tel: 212-979-4380
Safety Tips to Prevent Look-Alike Sound-Alike (LASA) Medication Errors
One of the best ways to reduce your risk of a medication error is to take an active role in your health care. Educate yourself about the medications you take and know the possible side effects. Your pharmacist is a reliable resource for information.
NYEE is a participating member of the American Association of Eye and Ear Centers of Excellence (AAEECE) Worldwide Patient Safety Initiative to Address LASA Eye and Ear Medication Errors. There are over 38 LASA eye and ear drug pair names that have been associated with medication errors resulting from patients taking medications incorrectly at home.
Learn more about LASA eye and ear medication errors by reading the following safety tips, available in English, Spanish, Russian, and Chinese.