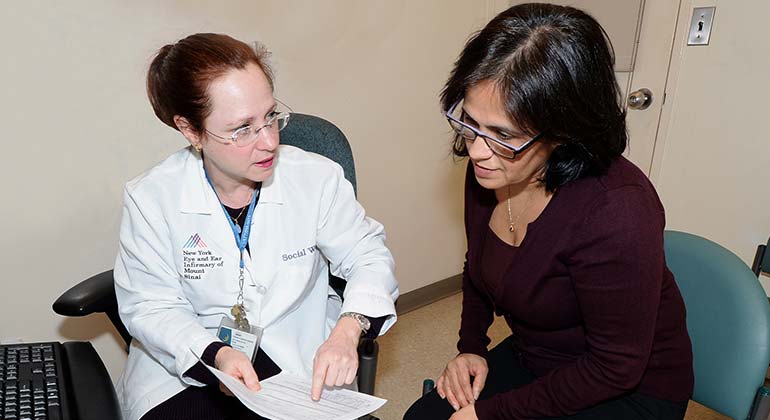 We believe that total care must emphasize the physical, emotional, and social needs of each patient, their family members, and significant others. Patients coming for treatment to New York Eye and Ear Infirmary of Mount Sinai (NYEE) can rely on support from our dedicated team of social workers. As part of your health care team, our social work staff will:
Help you understand and cope with issues related to your treatment
Work with the medical team to create a safe discharge plan for you
Link you with resources in the community that can assist you
In addition, patients seen at the Ear Institute, 380 Second Avenue, 9th Floor, can receive support from a dedicated social worker who supports the Cochlear Implant Program (for adults and children) as well as our vestibular, speech, and hearing loss patients.
Counseling
Patients and their families can obtain assistance in dealing with their fears and concerns about their health care issues. This may include coping with lifestyle changes, and adapting to a new routine. We also provide information and guidance about support services that can help if needed.
Discharge Planning
Discharge planning is an important part of patient care. Social workers will help determine what a patient will need once they leave the hospital and return home. Together with your family and insurance provider, your social worker will assess your needs, facilitate the process, evaluate options, and coordinate your arrangements to enhance your health and well-being.
When needed, social workers also coordinate continuity of health care when a patient moves from one healthcare setting to another or to home. As a patient's condition or level of care changes, they will make the necessary arrangements to ensure a smooth recuperation.
Transportation Needs
Coordination of transportation to and from clinic appointments can be arranged for Medicaid patients through the Social Work Department. In addition, Medicaid patients can arrange transportation to the hospital for a scheduled surgery by calling 212-979-4106.
Support Groups
NYEE's social work staff also leads free support groups to help enhance the lives of those dealing with eye, ear, nose, and throat conditions. These forums provide support and education to NYEE patients in a warm and caring environment.