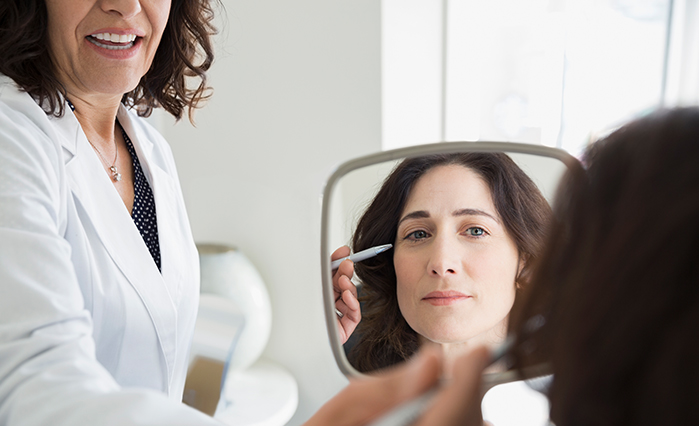 Patients looking to enhance their appearance through aesthetic (cosmetic) or reconstructive (restorative) plastic surgery will benefit from the expertise of outstanding plastic surgeons and specialty care offered at New York Eye and Ear Infirmary of Mount Sinai (NYEE). NYEE has been a referral center for plastic and reconstructive surgery since 1983. As a specialty hospital, with commitment to teaching, research and high-technology based patient care, NYEE is uniquely qualified to handle the most complicated cases.
Whether you are considering plastic surgery following trauma, disease, or hereditary malformation, or simply because you thinks it's time to improve your appearance, our multidisciplinary approach to care combined with emphasis on using the latest technology and techniques ensures that our patients have the best opportunity for a successful outcome-regardless of the type of procedure.
Our Services
At NYEE we offer a full range of options for patients interested in either aesthetic or reconstructive plastic surgery or non-surgical services.
Aesthetic (Cosmetic) Plastic Surgery Services Include:
Facial Surgery (ear shaping, eyelid surgery, eyebrow lift, face and neck lift and rhinoplasty)
Breast Enhancement (breast augmentation, breast implant revision, breast lift and breast reduction)
Body Contouring (body contouring after weight loss, liposuction, tummy tucks and mommy makeovers)
Non-surgical (facial rejuvenation using Botox or injectable fillers)
Reconstructive (Restorative) Plastic Surgery Services Include:
Breast Reconstruction following cancer (implant and autologous tissue flap techniques)
Craniofacial Reconstruction (cleft lip and plate, jaw surgery and microtia repair)
Post Trauma Reconstruction (facial and orbital fractures repair, burn reconstruction and scar revision)
Other (wound closures, birthmark and mole removal, skin cancer correction using Mohs and other techniques)
Trusted Surgeons
NYEE's plastic surgeons are highly trained specialists who are board certified by the American Board of Plastic Surgery, the only board recognized by the American Board of Medical Specialties to certify plastic surgeons. In addition to holding a board certification, many have undergone further specialized training to combine the best surgical skills, cutting-edge techniques, and the highest aesthetic judgment. Our plastic surgeons will help you explore your surgical and non-surgical options to achieve results that are natural and harmonious.
Our Programs
Cosmetic and Reconstructive Surgery Clinic

Mount Sinai's Plastic and Reconstructive Residency Program at NYEE gives patients access to affordable plastic surgery services.
New York Center for the Advancement of Breast Reconstruction

A unique center of excellence, offering women every available option for breast cancer surgery and breast reconstruction. We specialize in state-of-the-art, muscle-sparing, and implant-free microsurgical breast reconstruction options for women of every body type.
NYEE offers gender-affirming surgeries to trans-male and trans-female patients in a caring, safe and secure environment.
Faculty Practices at NYEE
Facial Plastic and Reconstructive Surgery

Patients interested in private practice facial cosmetic services can be seen at NYEE's Ear, Nose, and Throat Faculty Practice. Our physicians are fellowship trained in Facial Plastic and Reconstructive Surgery and have deep expertise in the most complex cosmetic and reconstructive procedures performed on the head and face.
NYEE's eye specialists are uniquely qualified to perform surgical and non-surgical procedures involving the delicate structure of the eyes and face. Whether you are considering an eye lift, facial rejuvenation like Botox or need reconstruction after skin cancer surgery, the physicians in our private practice offer the latest and most effective treatments so you can look your best.