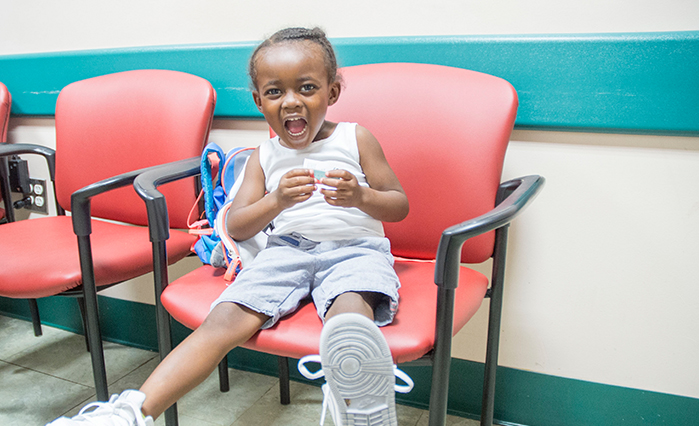 The Pediatric Ophthalmology/Orthoptic/Adult Strabismus Department's primary mission is to deliver the highest quality comprehensive eye care to children from birth through their teen years. The Department also delivers specialized eye care for adults with double vision (diplopia) related to strabismus and other disorders effecting binocular vision.
Pediatric Patients
Though strabismus, amblyopia and refractive errors are the most prevalent problems that are treated in the pediatric population, other ophthalmic diseases which effect children's vision and binocular vision require a comprehensive eye care approach in children. All eye diseases potentially affect vision and consequently affect binocularity in these young patients whose visual systems are still growing and developing.
For this reason, The Pediatric Ophthalmology Department has expanded over the last 10-15 years to develop specialized departments for pediatric congenital and acquired cataracts, pediatric glaucoma, pediatric retinal diseases, and pediatric corneal pathology.
The Departments continues to expand the scope of services for children in specialty clinics in the hospital. This involves co- management, evaluation, and treatment of pediatric patients with ocular trauma and hearing problems that may also affect the visual system. They also offer the specialized service of pediatric visual fields and pediatric low vision. Recognizing that vision is essential for a child's future educational and physiological growth, they also work with the Social Service Department and Early Intervention Department at NYEE even before school age arranging services for visually challenged children.
Adult Patients
Adults with binocular vision problems present with a different set of problems. Usually the adult has a sudden change in long established binocular vision habits acquired when other ophthalmic issues affect the established vision system and often also when a recent acquired strabismus occurs related to neurologic and systemic diseases which requires a different skill set. Binocular/sensory problems (diplopia) caused by systemic and neurological problems have become more prevalent in the aging adult population. Evaluating and treating adults with diplopia is another aspect of our work to improve the quality of life for the older population.
Patients are referred, not just from NYEE's ophthalmic population, but also directly from private physician's offices and several social service agencies. The advanced training of our Orthoptists/Ophthalmic Technologists allows the Department to provide specialized evaluations and treatments related to these binocular sensory problems.
Other specialized testing provided by the Department includes low vision evaluations for adults and specialized color vision testing especially aimed toward civil service employees along with other ophthalmic problems that cause color vision disabilities.