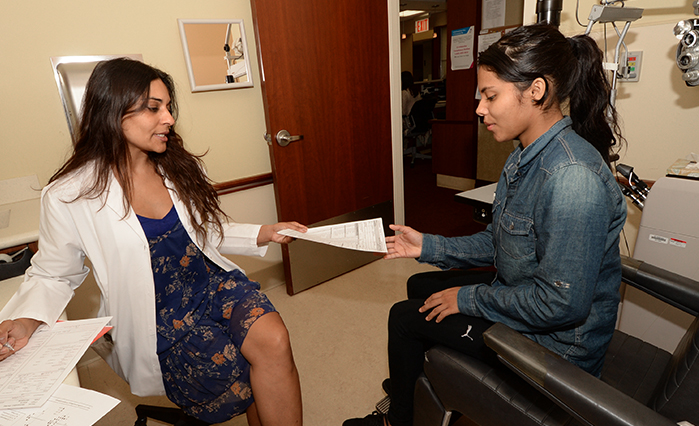 What is recurrent corneal erosion syndrome (RCES)?
This common clinical disorder involves the corneal epithelium (the thin, outer protective layer of the cornea) and the epithelial basement membrane to which it is anchored. RCES is characterized by the repeated breakdown of the epithelium due to an underlying weakness of the attachments of the epithelium to its basement membrane.
What are the symptoms of recurrent corneal erosion syndrome?
The most common symptoms of RCES are a mild foreign body sensation and severe pain that can be fleeting or last for days, typically occurring during sleep or upon wakening. In addition to pain it may cause photophobia (discomfort or pain to the eyes due to light exposure), chronic tearing, and corneal scarring leading to visual changes.
What are the causes of recurrent corneal erosion syndrome and how is the diagnosis made?
The most common causes are ocular trauma from foreign bodies, fingernails, tree branches, and paper cuts. Several corneal dystrophies may also predispose you to the condition, most notably epithelial basement membrane dystrophy (also known as Map Dot Fingerprint Dystrophy). Patients with diabetes, dry eye syndrome and ocular rosacea are also at risk to develop RCES. Diagnosis of this condition is mostly made by slit lamp examination; findings could range from normal or mild irregularity to a large area of loose epithelium to a large corneal defect. Fluorescein stain will help to reveal the corneal defect.
What is the treatment for recurrent corneal erosion syndrome?
Treatment usually begins with artificial tear drops/gels during the day and artificial tear or 5% sodium chloride ointment at bedtime. Occasionally, a short course of anti-inflammatory drops may help. A bandage or soft contact lens may be helpful temporarily, but does not generally yield a long-term cure. A procedure known as anterior stromal puncture, in which hundreds of small micropunctures are made with a blunt needle into the superficial corneal surface can be very successful in treating some cases. Other possible treatments include epithelial debridement removal and excimer laser phototherapeutic keratectomy (PTK).