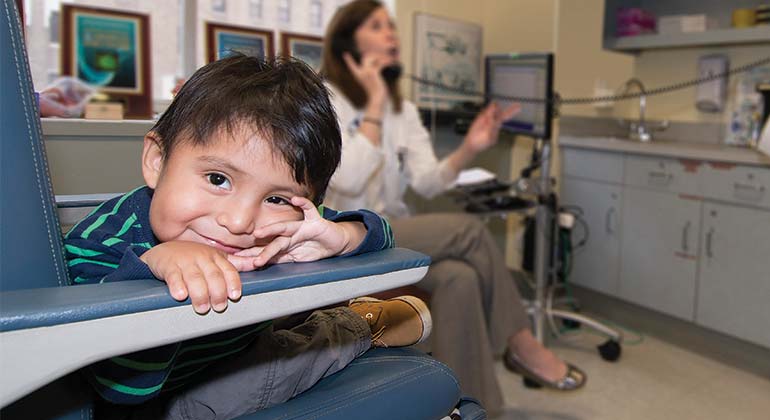 New York Eye and Ear Infirmary of Mount Sinai (NYEE) is an international leader in treating children with disorders of the ears, nose, and throat (ENT). Our fellowship-trained specialists have the medical expertise and, just as importantly, the temperament and personality, to put our young patients—and their parents—at ease. From chronic ear infections and allergies to more complicated cases of congenital malformations and pediatric thyroid cancer, our pediatric otolaryngologists diagnose and treat a wide range of ENT disorders using the latest, most advanced technology.
Specialized pediatric ENT care is essential, as studies show that early intervention leads to optimal quality of life. Following a thorough evaluation, our family-centered philosophy guides our approach as we partner with families to determine the course of medical or surgical treatment that best meets the individual needs of each child.
We provide the highest level of multidisciplinary care, collaborating with doctors in a range of specialties, including anesthesia, audiology, intensive care, neonatology, otology, plastic surgery, radiology, sleep medicine, and speech and language pathology.
Conditions We Treat
At NYEE, we treat a wide range of pediatric ENT health issues, from routine pediatric problems involving ear infections, foreign bodies, tonsils, and sinuses, to complex and rare conditions such as cleft palate, microtia , neck masses, and vascular anomalies including hemangiomas and port-wine stains, airway disorders, and profound hearing loss.
We provide expertise in treating a number of conditions, including the following:
Airway and breathing disorders
Ear disorders
Facial trauma
Feeding disorders
Hearing Loss
Hereditary and acquired neck masses
Nasal disorders
Snoring and obstructive sleep apnea
Speech and language disorders
Vascular abnormalities (hemangiomas, port-wine stains, and arteriovenous and venous malformations)
Treatments We Provide
Some pediatric ENT conditions may be resolved with medications or simple office procedures like clearing the ear canal, while others may require surgery. Every year, the skilled surgeons at NYEE perform hundreds of ear tube procedures, tonsillectomies, and adenoidectomies, as well as surgeries to correct sinus disorders, sleep apnea, ankyloglossia (tongue-tie), and to remove masses in the neck.
Many ENT disorders can affect a child's ability to hear and develop language, but families can trust that NYEE's expert team of pediatric ENT specialists and subspecialists is skilled at accurately diagnosing and treating such disorders. In addition to acute cases, we treat youngsters with chronic conditions, including the following:
Allergies and Immunology: NYEE's pediatric allergy and immunology specialists are experts in caring for children of all ages with allergic disease or other disorders of the immune system, including hay fever, medication allergies, hives, eczema, and asthma. Using comprehensive, state-of-the-art evaluation techniques and the latest therapies, we treat infants, children, and teens while encouraging the active involvement of parents and pediatricians in the treatment plan.
Chronic Ear Infections: Left untreated, chronic ear infections can lead to complications including hearing loss. Our pediatric ENTs use a variety of medical devices, including otoscopy, tympanometer, and audiometer to test a child's hearing, Eustachian tube function, and ear drum flexibility. If ear infections persist, ear tube surgery to resolve the buildup of middle ear fluid may be recommended.
Hearing Loss: At the Ear Institute at New York Eye and Ear Infirmary of Mount Sinai we offer a comprehensive evaluation and treatment program for children with all degrees of congenital or acquired hearing loss, all under one roof. Our teams of physicians, audiologists, speech therapists, educators, social worker, and early intervention specialists work together to make sure children—and their parents—get the support they need in a nurturing, family-friendly environment.
After a comprehensive evaluation by one of our skilled pediatric audiologists to determine the source and degree of the child's hearing problem, we identify treatment options, which may include medical or surgical intervention or assistive technology such as hearing aids or cochlear implants. Our pediatric speech-language pathologists work closely with our audiologists to evaluate the impact of your child's hearing loss on speech and language development, and to help children learn to articulate sounds.
Microtia and Atresia Program: Children born with microtia (little ear) and/or atresia have access to comprehensive management at our Microtia and Atresia Program located at the Ear Institute at New York Eye and Ear Infirmary. In addition to surgical treatments to reconstruct the ear, patients will receive additional support from our team of audiologists, speech therapists, educators, social worker, and early intervention specialists. This multidisciplinary, team-based approach allows us to address any speech and language delays through therapy, hearing assistive devices, and support so that your child can function fully.
Pediatric Sinusitis: Most children with acute sinusitis respond well to antibiotics and decongestants. If a child suffers from symptoms of sinusitis for at least 12 weeks or has recurrent episodes, we may recommend medical or surgical treatment of the sinuses. Opening up the sinuses and allowing air to circulate usually reduces the number and severity of sinus infections.
Pediatric Sleep Disordered Breathing and Obstructive Sleep Apnea: The most obvious symptom is loud snoring or gasping and interrupted breathing. Left untreated, sleep apnea can lead to behavior and learning problems, bedwetting, slow growth and development, obesity, and high blood pressure or other heart and lung problems. Depending on the cause and severity, sleep apnea can often be treated with the surgical removal of the tonsils and adenoids. Additional treatments such as weight loss, the use of Continuous Positive Airway Pressure (CPAP), or additional surgical procedures may sometimes be required.
Vascular Abnormalities: Children born with birthmarks like hemangiomas, port-wine stains, and arteriovenous and venous malformations require early intervention to not only treat their condition but to minimize its often disfiguring effects. Our goal is to offer the most effective, minimally invasive treatment options, which can include medical, surgical, or laser interventions (and in some cases a combination) with the best cosmetic results.