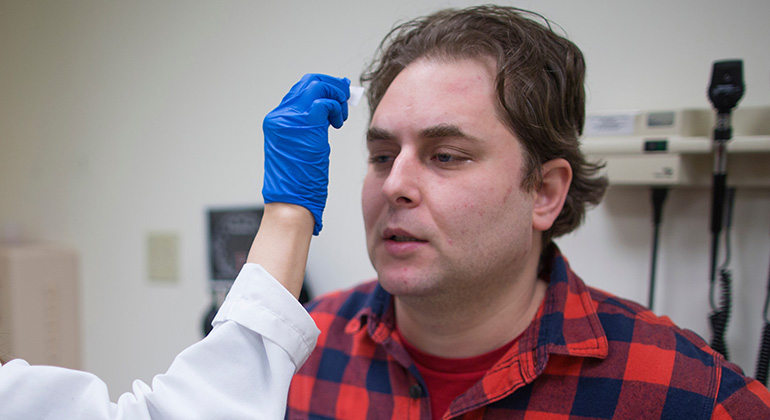 Facial Paralysis and Rehabilitation
New York Eye and Ear Infirmary of Mount Sinai (NYEE) provides comprehensive, compassionate care for adults and children who experience facial paralysis and associated movement disorders. Our team of experienced specialists takes a multidisciplinary approach to the wide range of conditions that cause this problem, collaborating closely with experts in neurotology (neurological disorders of the head and neck), ophthalmology, physical therapy and rehabilitation, and facial plastic and reconstructive surgery to customize a care plan for each patient using the latest treatments available, all in one setting. Depending on the cause and the specific symptoms, treatment may include medication such as antibiotics, corticosteroids, or onabotulinumtoxinA (Botox®), physical therapy, or neurologic, reconstructive, or plastic surgery.
Causes and Treatments of Facial Paralysis
There are various causes of facial paralysis—including illnesses and injuries—which are broadly categorized as follows:
Congenital
Some conditions causing facial paralysis are present since birth, including trauma that occurred during childbirth, as well as Melkersson-Rosenthal Syndrome, typically treated with medication, and Mobius Syndrome and Hemifacial Microsomia, which can require free muscle transfer surgery.
Infectious
Almost all viral or bacterial conditions that cause facial paralysis (including the following) can be treated with medication.
Bell's Palsy causes a sudden onset of facial paralysis and can affect children and adults. Fortunately, it usually begins to resolve within three weeks, and the prognosis for complete recovery is excellent. While it is considered an idiopathic condition (unknown cause), recent evidence suggests that it may be viral in nature. Steroids and anti-viral medications can improve recovery of the facial nerve.
Ramsey-Hunt Syndrome is a viral condition that, in addition to facial paralysis, can also cause ear pain and may lead to hearing loss, tinnitus, and vertigo, as well as nausea and vomiting. It is treated with steroids, antiviral, and pain medications.
Lyme Disease symptoms may include facial paralysis, but in nearly all cases it is resolved with antibiotics.
Additional infectious diseases can impair facial nerve function, including human immunodeficiency virus (HIV), tuberculosis (TB), and infectious mononucleosis, which are treated with targeted medical therapy.
Trauma
Traumatic head injury is one of the most common causes of acquired facial paralysis. Often it resolves itself in time, but surgery may be required to repair facial nerve damage.
Cancer Surgery
Surgery to remove certain cancers can result in facial nerve damage. The most common tumors affecting the facial nerve are acoustic neuroma (vestibular schwannoma), glomus, facial neuroma, and carcinoma. Following surgery, electromyography (EMG) can be used to assess facial musculature. Procedures can be performed to aid with eye closure, facial symmetry, and oral function.
Systemic and Neurologic Conditions
Autoimmune diseases, including diabetes, sarcoidosis, Guillain-Barre syndrome, and multiple sclerosis, among others, infrequently cause facial paralysis, but correct diagnosis and prompt medical intervention lead to recovery of facial movement in most cases.
At NYEE, consistently ranked among the nation's top specialty hospitals, we understand that even temporary partial facial paralysis can cause social, psychological, and functional problems for patients, limiting their ability to use facial expressions to convey emotions and sometimes causing them to feel self-conscious. Our experienced team is sensitive to your emotional as well as physical needs as they work collaboratively to restore facial function.