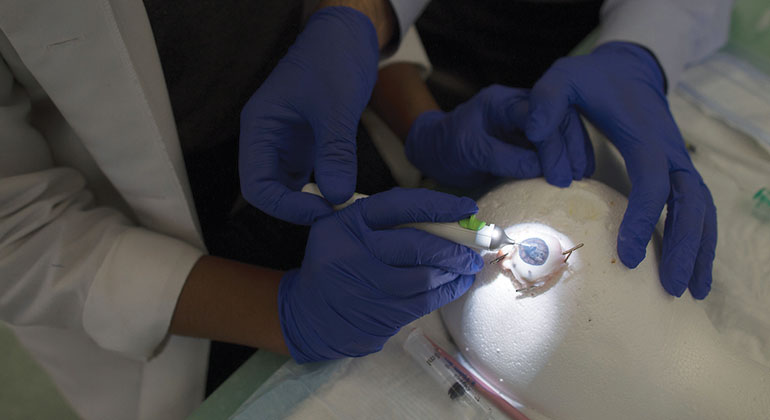 Featured Innovations at NYEE
The focus of the Ophthalmic Innovation and Technology Program is currently on micro-interventional innovation, which is rapidly transforming ocular treatment. New York Eye and Ear Infirmary of Mount Sinai (NYEE) has been a leader in the field, not only by acting as a top recruiting site of clinical trials for some of these products, but also by quickly adapting them into the standard practice of care for our patients.
miLOOP Cataract Innovation: First Device for Micro-interventional Cataract Surgery
NYEE is the first hospital in the Northeast to introduce miLOOP, a micro-interventional cataract fragmentation device for high-precision, non-thermal, minimally invasive cataract surgery, which greatly enhances the conventional phaco-surgical technique.
The Problem
Phacoemulsification, while extremely successful, has been the standard of care for 50 years. However, the technique can introduce a lot of undesirable energy and sometimes leads to corneal damage and endothelial cell loss, especially in cases of dense and large cataracts.
The Solution
Borrowing from the recent advances in micro-invasive techniques in cardiovascular surgery and interventional radiology, Dr. Ianchulev and his engineering team at the company he co-founded, Iantech, Inc., developed miLOOP, a game-changing technology that for the first time allows for energy-free lens fragmentation using a pen-like micro-interventional device. The device uses advanced nitinol technology with super elastic, memory-shape micro-filament, which fragments even the hardest cataracts with no ultrasonic, vibrational energy and no heat introduced into the eye. miLOOP can cut through rock-hard cataracts without rupturing the 4 micron-thin capsule enveloping the lens—this ultra-thin lenticular "envelope" makes even routine cataract surgery challenging and can lead to many complications.