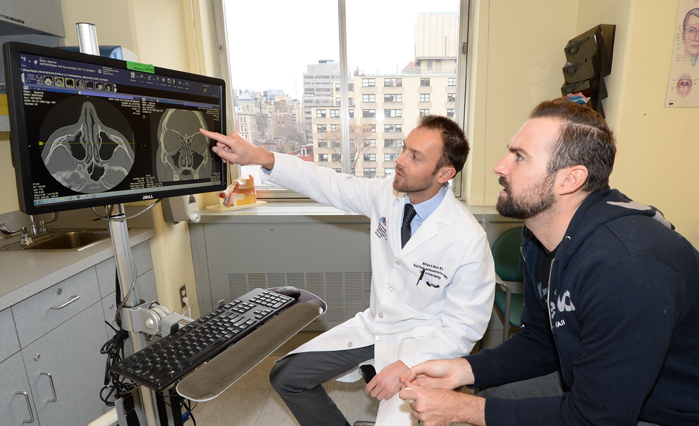 The Facial Plastic and Reconstructive Surgery Service at New York Eye and Ear Infirmary of Mount Sinai (NYEE) provides comprehensive care and management of all facial cosmetic and reconstructive conditions with the most advanced techniques and equipment available. Our specialists have dual board certifications by American Board of Otolaryngology and the American Board of Facial Plastic and Reconstructive Surgery and have in-depth understanding of both medical and cosmetic issues concerning ears, nose and throat. Each patient undergoes a full evaluation to develop a customized treatment plan to achieve desired functional and aesthetic improvements based on their individual qualities and goals, while maintaining a natural look.
Our Services
Aesthetic (cosmetic) facial surgery including facelifts, rhinoplasty, eyelid lift (blepharoplasty), ear surgery (otoplasty), browlift, cheek and chin augmentation, facial liposuction and autologous fat grafting are routinely performed. The latest techniques in endoscopic facial aesthetic surgery, as well as non-surgical treatment options such as ultherapy, dermal fillers, and injectables like Botox are used. Patients left unsatisfied with a previous facelift can schedule a consultation to discuss options for repair and revisions to the previous surgery for more satisfactory results.
Pediatric facial surgery includes correction surgery for various ear deformities including hidden ear (cryptotia), pointed-ear defects (Stahl's ear) and prominent ears. Newborns born with ear deformities can often be treated with EarWell device through ear molding. The service also treats pediatric mole removal and scar revisions.
Reconstructive facial surgery includes management of post-traumatic, post-surgical and congenital facial malformations. Complex reconstructive procedures including cleft lip and cleft palate, microtia, scar revisions, orbital fracture repair, vascular malformations and birthmarks, hemifacial microsomia, postsurgical nasal obstruction, rehabilitation of the facial paralysis/facial reanimation, nasal valve collapse and septal perforation are routinely addressed by the service.
Treatment of facial skin cancers using Mohs surgery and other lesions is performed with an emphasis on natural appearing and normal functioning reconstruction after ensuring total tumor removal. Larger cancers of the head and neck are repaired with larger flaps or microvascular free tissue transfer.
Our Multidisciplinary Approach
Facial surgery, whether reconstructive or cosmetic, can be complicated and involve multiple specialists and subspecialists to achieve optimal functional and cosmetic results. Our surgeons work closely with otologists at the Ear Institute's Microtia and Atresia Program as well as vascular birthmarks and malformations specialists on complex facial tumors. Cases involving cleft lip and cleft palate may include entire teams of specialists from oral surgeons, pediatric dentists and orthodontists to hearing and speech specialists, all working in concert with the facial plastic surgeon to ensure feeding, swallowing, and speech functions are normal.