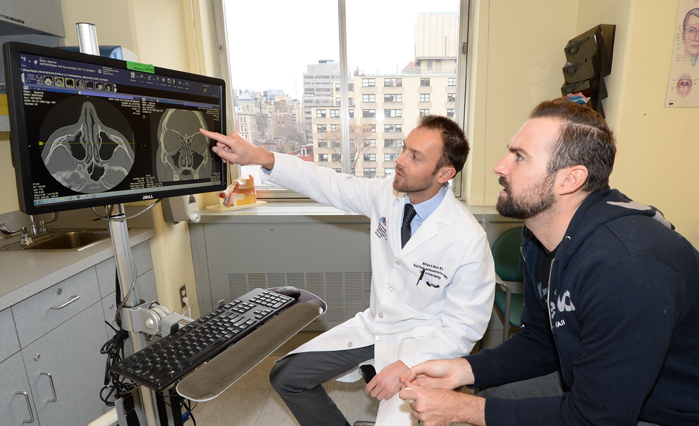 The Facial Plastic and Reconstructive Surgery Service at New York Eye and Ear Infirmary of Mount Sinai (NYEE) provides comprehensive care and management of all facial cosmetic and reconstructive conditions with the most advanced techniques and equipment available.
Aesthetic facial surgery, including facelifts, rhinoplasty, blepharoplasty, otoplasty, browlift, cheek and chin augmentation, facial liposuction and autologous fat grafting are routinely performed with the supervision of our board certified staff. The latest techniques in endoscopic facial aesthetic surgery, CO2 laser resurfacing and pulse dye laser for vascular lesions, are offered as refining adjuncts in management of the aging face.
Reconstructive facial surgery includes management of post-traumatic, post-surgical and congenital facial malformations. Complex reconstructive procedures including cleft lip, cleft palate, auricular malformations, hemi-facial microsomia, post surgical nasal obstruction, rehabilitation of the facial paralysis/facial reanimation, nasal valve collapse and septal perforation are routinely addressed by the service.
Treatment of facial skin cancers and other lesions is performed with an emphasis on natural appearing and normal functioning reconstruction after ensuring total tumor removal. Larger cancers of the head and neck are repaired with larger flaps or microvascular free tissue transfer.
The Facial Plastic and Reconstructive Surgery clinic meets weekly on Tuesday mornings from 9:00 am at NYEE. Full evaluations and consultations are performed during the initial clinic visits. Surgical cases are performed throughout the week at NYEE.
Insurance is accepted, when applicable. Cosmetic procedures are offered through the teaching service at a significant cost savings.
More About Facial Plastic Surgery