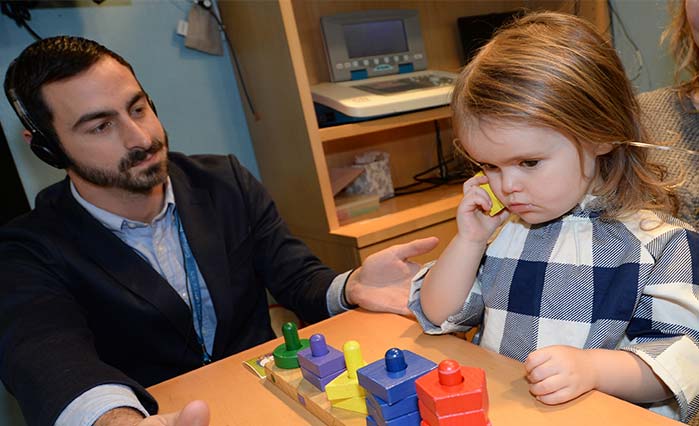 Testing and treating children with hearing problems requires a unique set of skills, techniques, even temperament on the part of clinicians. The Children's Hearing Program at the Ear Institute of New York Eye and Ear Infirmary has assembled an unsurpassed team of pediatric hearing professionals.
We are the only hospital-based program around that provides under one roof a full range of specialists equipped to meet the needs of children with hearing impairment, as well as their families. This collaborative team consists of otolaryngologists (eye, nose and throat specialists), audiologists, speech-language pathologists, auditory verbal therapy specialist, social workers and an education consultant. Working exclusively with children day after day has enabled team members to hone their skills and knowledge across a vast range of hearing disabilities and deficits. The compassion and dedication these professionals bring to their jobs are additional reasons the Children's Hearing Program has become a respected referral center for physicians and their patients throughout the Northeast. We are particularly well known for our ability to work with very young children – some just months old – and difficult to test children.
Young children can be fitted with hearing aids or a cochlear implant to give them access to sound. However, in order to properly develop their speech language skills they will also require therapy to help facilitate the development of their listening and speech skills. We offer highly specialized auditory verbal therapy to patients.
By combining early identification, intervention and the appropriate hearing technology children will have the ability to develop better language skills, have more natural communication and more easily assimilate into mainstream school classrooms.
At the Ear institute our goal is to help your child develop age-appropriate speech, language and social skills, while optimizing their hearing ability. And for parents, we are focused on giving them the tools and knowledge they need to help their child realize his or her full potential.
Children's Hearing Program services include:
Listening and Spoken Language Therapy (LSL)/Auditory Verbal Therapy

Children's Hearing Tests
Hearing Rehabilitation Program
Early Intervention Program
Educational Consultation
Social Work