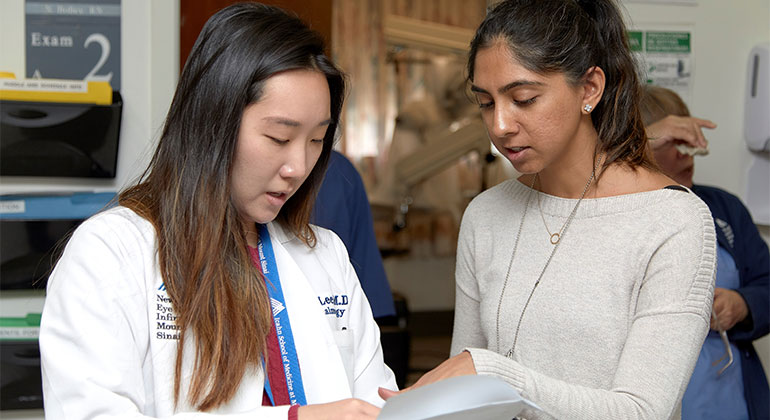 NYEE Residency Difference
Ophthalmology residents at New York Eye and Ear Infirmary of Mount Sinai (NYEE) receive unrivaled opportunities and individualized support through unique clinical experiences, mentorship, and health care quality improvement initiatives. In addition, trainees have access to some of the top medical research laboratories, technology, and faculty in the country. Program highlights include:
Joint Internship at Mount Sinai Beth Israel
All students matching into the NYEE residency will participate in the NRMP matching program and will match into a one year internal medicine program at Mount Sinai Beth Israel in New York City. The hospital is located four blocks from NYEE, and during the internship year, interns will spend three months on the ophthalmology service, rotating through all the training sites and acquiring diagnostic skills and microsurgical training. Interns will have the opportunity to obtain housing through the Icahn School of Medicine Graduate Medical Education office, allowing the residents to minimize the cost of relocation between internship and residency.
Diverse Training Environments
New York Eye and Ear Infirmary
Founded in 1820 and now one of the world's leading facilities for treating diseases of the eyes, ears, nose, and throat, New York Eye and Ear Infirmary of Mount Sinai (NYEE) combines a rich history of specialty care with award-winning clinical excellence in order to serve the downtown community, as well as patients from the Tri-State area, across the nation, and around the globe. NYEE is the region's most comprehensive center for the delivery of primary through tertiary eye care, with an annual surgical case volume of more than 22,000. The Eye Clinic service gives residents the opportunity to treat a wide spectrum of patients and eye pathologies, in addition to gaining experience in primary and secondary repair of complex ocular injuries through its dedicated Eye Trauma service.
The Mount Sinai Hospital
Situated between New York City's Upper East Side and East Harlem, Mount Sinai serves one of the most diverse patient populations in the world. It is a critical safety-net hospital for many in need, while at the same time a leader in world-class translational research. Founded in 1852, The Mount Sinai Hospital is a 1,171-bed, tertiary-care teaching facility acclaimed internationally for excellence in clinical care.
Residents will rotate through the subspecialty services during their second year rotations and they will perform inpatient consultation and provide emergency consultation services through their residency. They will have the opportunity to work with and teach medical students in the student-run East Harlem Health Outreach Partnership, and they will participate in professional educational development programs sponsored by the GME department.
James Peters Veterans Administration Medical Center
The James J. Peters VA Medical Center is a multi-level health care Center of Excellence, tertiary care facility and teaching hospital that offers veterans a full range of patient care services and 331 in-patient beds. The Medical Center is situated on a historic site in the Bronx. Located on the highest point in New York City, the site served as a strategic vantage point during the Revolutionary War. The Bronx VA provides tertiary services to a veteran population from the Bronx, Westchester and Rockland Counties, Northern New Jersey, and the New York City metropolitan area. The eye clinic is a modern facility that sees nearly 20,000 patient visits per year. The VA is outfitted with a Femtosecond laser system, and most chief residents are able to become certified for laser-assisted cataract surgeries. Full ophthalmic imaging is available including Lenstar, fluorescein angiography, SD-OCT, and OCT angiography.
Elmhurst Hospital
Elmhurst Hospital Center is a member hospital of the New York City Health and Hospitals Corporation. It is a 557-bed tertiary care hospital and a major teaching affiliate of the Icahn School of Medicine at Mount Sinai (ISMMS) through an agreement that dates back to 1964. As one of the City's preeminent municipal hospitals, Elmhurst serves an area of more than one million people in one of the most ethnically and linguistically diverse communities in the United States. It is a completely modernized facility with a Level I Trauma Center. Elmhurst records nearly 500,000 outpatient visits and 150,000 emergency room visits yearly.
Serving a diverse community, the hospital will provide residents the opportunity for autonomy while caring for patients with complex ocular conditions. The ophthalmology clinic is staffed by members of the full time faculty at ISMMS and voluntary faculty dedicated to the treatment of our most deserving yet underserved patients.
Integrated Competency Based Curriculum
The goal of the Department is to train ophthalmologists who will learn the core knowledge outlined in the AAO Basic Clinical Science Course, but more importantly we want to make certain our trainees will become lifelong learners.
Didactics
Knowledge is obtained through didactics delivered via interactive classroom methodology. Grand rounds are held each Friday consisting of challenging clinical cases and scholarly discussions presented to the assembled faculty and trainees. Following grand rounds there will be three hours of didactics. Students will be given a reading assignment based on the BCSC and seminal articles. They will be asked to come to lecture having completed the reading assignment and watching a web based lecture. Didactics will then be delivered in a case based fashion, which will allow the instructor to assess the comprehension of the trainees. In addition to the grand rounds, there will be a weekly retinal imaging conference held each Tuesday (and video conferenced to all sites), a morbidity and microsurgery course held each Wednesday at each site, and quarterly subspecialty journal clubs. Prior to the OKAPS, an evening OKAP review program will be presented and mock oral practice will be made available to graduating PGY-4 residents. Clinical skills will be ascertained through direct observation by faculty to make certain residents are progressing as expected.
Microsurgical Training Facility
The Jorge N. Buxton MD, Microsurgical Education Center is a dedicated space with state-of-the-art microscopes, simulated and animal practice eyes, and surgical instruments and supplies to allow 24/7 practice opportunities for all residents and fellows in the training program. Each year over 12 hours of wet lab courses are provided to the residents in curricular time, staffed by full time and voluntary faculty.
Eyesi® Surgical Simulator – A cataract surgical simulator with the most up to date modules is available at all hours.
Cataract Training – Cataract surgical training is taught in a structured "front to back manner." Students must first demonstrate proficiency in operating on animal eyes under the microscope (Kitaro eyes and animal eyes will be used). In addition, the students must complete the Eyesi cataract modules. Surgery will be taught with the most simple steps progressing to more complex steps as the resident demonstrates proficiency and safety.
Research Opportunities
Residents will be given time to participate in and conduct research. Trainees submitting research accepted for presentation will be allowed to attend ARVO and AAO, with additional opportunities available for subspecialty meetings.