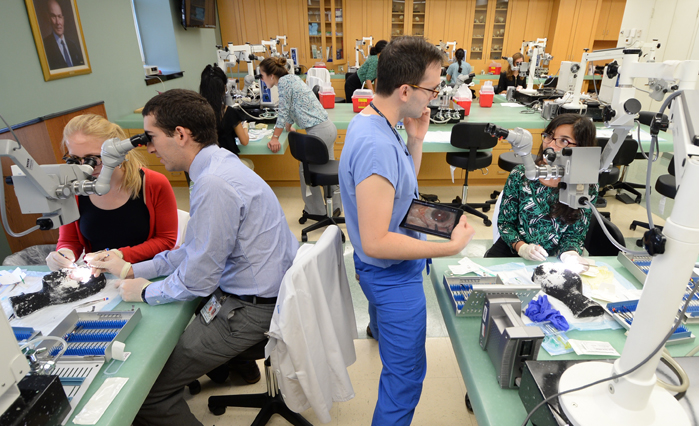 One of the most unique medical training facilities in the tristate area, the Jorge N. Buxton Microsurgical Education Center, is open and available for use by all interested professionals at New York Eye and Ear Infirmary of Mount Sinai (NYEE).
It provides Ophthalmologists, Otolaryngologists and Plastic Surgeons with opportunities for hands-on experience in a variety of surgical procedures before actually treating patients in the operation room. The center is equipped with 16 workstations, each with state-of- the-art operating microscopes, and microsurgical instruments. One station is equipped with a chip camera for live demonstration of surgical techniques. The Center is also equipped with plasma monitors and the latest video technology.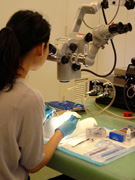 The modern microsurgical laboratory is central to the educational mission of NYEE. Nothing can replace the development of tactile skills and familiarity with three-dimensional anatomical structures.
In Ophthalmology, "hands on" courses include cataract removal, reconstructive plastic surgery, corneal transplantation, non-laser glaucoma surgery, strabismus surgery (muscle surgery to correct crossed eyes), and suturing and incision techniques. Phacoemulsification (used in removal of a cataract) and vitrectomy (removal of the jelly-like matter in the eye to improve vision lost from bleeding within the eye) are practiced on both a simulator and specimens.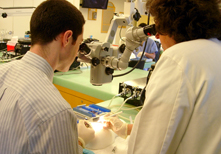 In Otolaryngology, intensive specialized training is necessitated by the very structure of human temporal bone, which is one of the most complex in the body, including both the outer portions of the skull as well as housing sensitive bones and tissue responsible for hearing and balance. Otologic surgery takes place within an extremely small operative area and the more important structures are located deep in the head so as to always require delicate microsurgery.
The techniques learned here are used in cases of conductive hearing loss, or loss attributable to non-nerve related problems such as malfunctioning bones of the middle ear, perforated eardrum from trauma or other causes, or chronic ear disease. Surgical procedures to remedy dizziness and facial paralysis, as well as leading-edge ossicular reconstruction (repair of the hearing bones), are also studied.
Techniques for reconstructive and aesthetic facial surgery have multiplied over the past decade, and include endoscopic (performed through small incisions using surgical telescopes) and laser-assisted methods. Over the past several years, the Division of Facial Plastic Surgery within Department of Otolaryngology has become increasingly active in the research, development and teaching of these new modalities, as well.
The new center replaced the traditional Temporal Bone Laboratory, which trained more than 2,000 physicians from around the world. NYEE first had a temporal bone laboratory before the turn of the last century, as extensive practice with this part of the anatomy has always been crucial in developing expertise necessary to perform delicate surgery in the inner ear and around the facial nerves.
The center is named in memory of the world-famous corneal surgeon Jorge N. Buxton, MD, who practiced and taught at New York Eye and Ear for more than four decades.