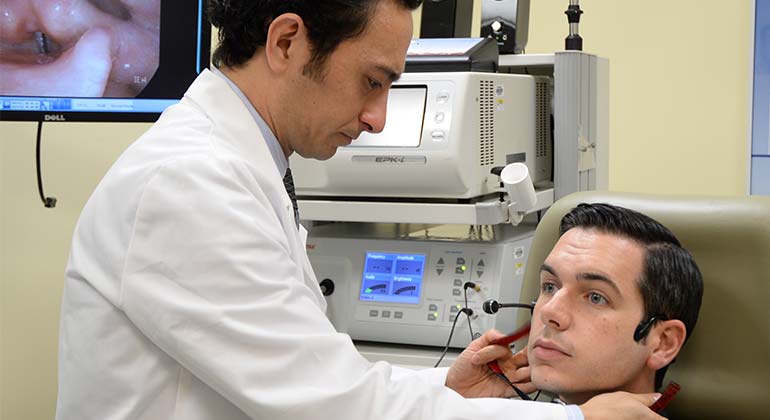 Grabscheid Voice and Swallowing Center of Mount Sinai
We help people communicate more clearly, more easily, more effectively, and more beautifully.
At the Grabscheid Voice and Swallowing Center, based at New York Eye and Ear Infirmary of Mount Sinai (NYEE), our highly trained experts are dedicated to the diagnosis, treatment, and research of voice and swallowing disorders. We provide a wide range of individualized medical, surgical, and therapeutic treatments for conditions related to the larynx, throat, and vocal cords in adults and children, as well as for transgender individuals. Our skilled speech language pathologists (SLPs) provide non-surgical aural rehabilitation services to help restore voice and throat function and improve our patients' quality of life.
We also accommodate the needs of performers or business presenters who may be visiting New York and suddenly experience an urgent vocal problem. In addition, our team of specialists is available for supplementary consultation for those already working with an otolaryngologist, voice therapist, singing teacher, or speech coach.
Treating Voice Disorders
Voice problems are commonly caused by benign vocal cord lesions such as nodules, polyps, or cysts, which may result in hoarseness (dysphonia); limitations in pitch, range, and volume; shortness of breath; the frequent need to cough or clear the throat; or vocal fatigue. Our board certified otolaryngologists also treat voice disorders resulting from allergies and post-nasal drip, asthma, reflux laryngitis, smoking, and advanced age. Additional disorders that cause voice problems include granuloma, muscle tension dysphonia (MTD), Reinke's Edema, cancer of the larynx and vocal folds, scar and sulcus vocalis, and laryngopharyngeal reflux disease (LPR). We treat them all.
We also treat voice disorders caused by neurological conditions, such as Parkinson's disease, including vocal cord paralysis, spasmodic dysphonia, vocal tremors, and involuntary movements of the larynx, such as tics and myoclonus. The Center provides expertise in neurolaryngology, including the latest diagnostic technology, such as laryngeal electromyography (EMG) and videokymography.
Our treatments for vocal disorders include medication, surgery, or voice therapy, which involves vocal and physical exercises coupled with behavioral changes.
Our staff recognizes that a person's voice is central to individuality, so we work closely with our patients to understand their concerns and tailor the optimal treatment plan that best suits their needs.
Treating Swallowing Disorders
Swallowing problems (dysphagia) are a common symptom of many medical conditions, including rheumatoid arthritis, diabetes, and scleroderma. They may also occur in patients with neurological injuries caused by stroke or trauma to the head or spinal cord, or in patients who have progressive neurological conditions such as Parkinson's disease and multiple sclerosis, or in patients who have head and neck tumors.
At our Swallowing Laboratory, which employs the latest technological advancements in diagnosis and treatment, we carefully evaluate and treat patients to prevent complications, such as dehydration, malnutrition, choking, and pneumonia. We conduct high-tech swallow tests including the fiberoptic endoscopic examination of the swallow (FEES), video fluoroscopic swallowing exam (VFSE), stroboscopy, Flexible Endoscopic Evaluation of Swallowing with Sensory Testing (FEESST), electromyography, and the modified barium swallow test.
Treatments include compensatory posturing, thermal stimulation, therapeutic exercises, and electromyography monitoring devices, as well as medical and surgical approaches.
Rehabilitation After Head and Neck Cancer
Patients who have been treated with surgery or radiation for head and neck cancer may experience speech and swallowing difficulties. Our compassionate speech language pathologists (SLPs, sometimes referred to as speech therapists) help patients restore voice function after treatment for various head and neck cancers, including cancer of the mouth, throat, larynx (voice box), salivary glands, paranasal sinuses and nasal cavity (nose), and lymph nodes in the neck.
The road to recovery can often be a long one, and our speech therapists meet with patients before cancer treatment to establish a relationship, obtain baseline data on their speech and swallow muscles, and counsel them on structural, functional, and lifestyle changes that may result from cancer treatment.
Following cancer treatment, speech therapists work with patients to help them regain their ability to communicate. Patients who had total laryngectomy surgery (removal of the voice box) will receive counseling on latest approaches to speech rehabilitation. In addition to helping patients select the most appropriate device, SLPs offer training to help them use it effectively. Finally, we teach patients to speak in a new way that circumvents any disabilities that may result from cancer treatment. Approaches to speech include the following:
Electrolarynx, which is a battery-operated device placed in the jaw/neck region that transmits the electromechnical vibration to the mouth, creating mechanical-sounding speech.
Esophageal speech, which requires air injected or inhaled into the upper part of the food pipe (esophagus) to produce a sound that is shaped into speech via articulators. It can be a difficult technique to learn, but it does not require devices or prostheses, and speech sounds more natural.
Tracheoesophageal (TE) speech, which is the latest communication tool for laryngectomees. A voice prosthesis is inserted into a surgically created fistula (small puncture) between the trachea (windpipe) and the esophagus (food pipe), keeping food out of the trachea but allowing air into the esophagus for speech. The TE puncture can be created during laryngectomy surgery or later.
Transgender Voice Modification
The specialists at NYEE work closely with the Health System's Center for Transgender Medicine and Surgery to provide gender-affirming surgeries to transgender individuals. We offer a robust plastic surgery program that includes trans-feminine and trans-masculine facial and body procedures. The specialized teams of laryngologists and voice and speech therapists at Grabscheid Voice and Swallowing Center work collaboratively to help transgender individuals find their voice. Voice modification includes surgery and voice therapy that addresses communication patterns, pitch, and behaviors that communicate gender identity.
Speech Language Therapy
Our experienced team of speech language pathologists evaluates and treats adolescents through geriatrics for all types of voice/communication, airway, and swallowing disorders with a focus on nonsurgical rehabilitation. Our multidisciplinary team provides same-day results of voice and swallow evaluations and a detailed treatment plan on the patient's first visit. Our vocologists are specialists in treating the professional voice for actors, singers, performing arts students, teachers, lawyers, and others whose careers depend on their voice.
For an appointment with a Speech Language Pathologist at NYEE, call 646-438-7805.
Research
The medical and surgical otolaryngologists at the Grabscheid Voice and Swallowing Center of Mount Sinai are at the forefront of the latest scientific research and clinical trials in a wide range of areas related to the voice and swallowing, including sound healing, tissue sensitivity, and neural regeneration after injury. Depending on the case, our patients may benefit from access to groundbreaking studies.