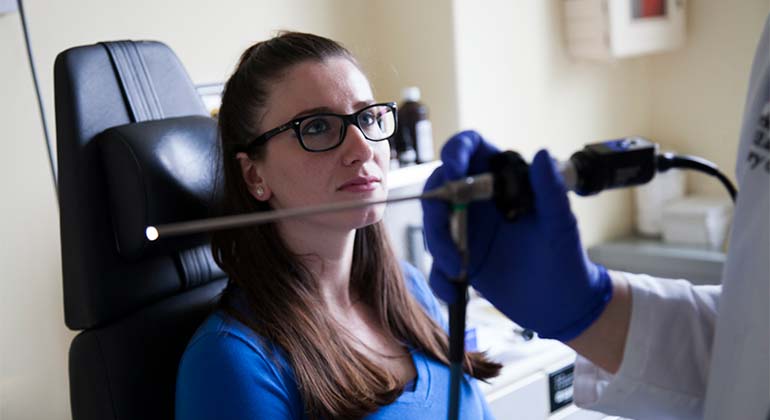 Rhinology and Sinus Disease
At New York Eye and Ear Infirmary of Mount Sinai (NYEE), we specialize in conditions of the nose and sinuses, employing state-of-the-art therapies and treatment options. From allergies and chronic nosebleeds to nasal polyps and skull base tumors, our fellowship-trained rhinologists (ear, nose, and throat doctors specializing in the nose and sinuses) treat patients with surgical and nonsurgical therapies. When surgery is necessary, it is performed using minimally invasive techniques.
Some patients can be treated with medication, including antibiotics, antihistamines/decongestants, or nasal steroids, which we deliver directly into the sinus cavity to minimize systemic absorption. In cases that require a surgical intervention, our expert surgeons perform minimally invasive, image-guided endoscopic surgery, which results in improved outcomes, fewer complications, and quicker recovery time. In addition, many patients can be treated with minimally invasive procedures in the office without having to undergo anesthesia.
Conditions We Treat
At the initial visit to NYEE, we thoroughly assess the patient's symptoms, medical history, and concerns, and perform the tests necessary to make an accurate diagnosis and develop an individualized treatment plan tailored to each patient's lifestyle. Our rhinologists work with a multidisciplinary team, including allergists, oculoplastic surgeons, ophthalmologists, pulmonologists, and other specialists to provide comprehensive treatment of all aspects of a patient's condition.
We treat allergies, allergic fungal sinusitis, acute and chronic sinusitis, nasal polyps and obstructions, severe and chronic nosebleeds (epistaxis), rhinitis, Graves' disease, aspirin exacerbated respiratory disease (AERD), cerebrospinal fluid (CSF) rhinorrhea, pituitary tumors, inverted papilloma, benign and malignant skull base tumors, and nasal cancer.
Research
Collaborating with colleagues throughout the Mount Sinai Health System, NYEE's rhinology specialists are investigating a number of research areas, including endoscopic sinus surgery to improve patient outcomes, alternative sinusitis treatments for those who have been unsuccessful with traditional therapies, virtual reality to achieve pain relief, and reducing the recurrence rate of nasal polyps. Appropriate patients have the option to participate in clinical trials.