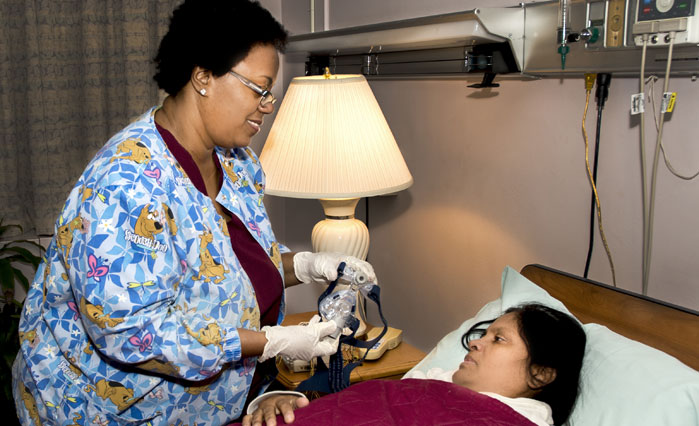 Sleep is essential to good physical and mental health and yet it is estimated that nearly 50 percent of Americans deal with at least one type of sleep disorder at some point in their lives. This may include difficulty falling asleep or staying asleep through the night, or lack of a restful sleep. Untreated sleep disorders can lead to serious long-term health problems, including depression, loss of libido, elevated blood pressure, and heart arrhythmias.
The sleep center at New York Eye and Ear Infirmary of Mount Sinai (NYEE) offers a full range of diagnostic services for adults and children affected by sleep disorders, including obstructive sleep apnea, snoring, insomnia, narcolepsy, periodic limb movement disorder (PLMD), and daytime sleepiness.
Sleep Studies at NYEE
The sleep center at NYEE, is staffed by experienced sleep specialists, boarded certified in sleep medicine and pulmonary medicine. Typically, an initial visit to our center includes a consultation with one of our sleep specialists, followed by a sleep study, done in our fully accredited state-of-the-art sleep laboratory. As patients sleep, data is collected to diagnose sleep problems.
Tests to help diagnose the cause of patients' sleep problems include:
Sleep Study (Nocturnal Polysomnography or NPSG) is the benchmark standard for screening most sleep disorders. Studies start at 9AM and end at 6AM. The study begins with electrode application and our trained technicians monitor the patient throughout the night.
Used to screen for: Sleep disordered breathing, including sleep apnea, poor sleep architecture (the basic structure of sleep patterns) and efficiency, and periodic limb movements (PLM).
Your Sleep Study: What to Expect Brochure
CPAP / BiPAP Titration Studies also starts at 9AM and ends at 6AM. CPAP (Continuous Positive Airway Pressure) is a medical device that provides a constant flow of air into the patient's airway. The constant airflow keeps the airway open and prevents the airway from collapsing (apnea). During the study, our sleep technologists slowly adjust the device to find the right amount of air pressure to prevent the upper airway from becoming blocked. Responses to the airflow are monitored and recorded.
BiPAP (Bilevel Positive Airway Pressure) is similar to CPAP, but provides different pressures for inhalation (inspiration) and exhalation (expiration) of air. The device cycles between the two pressures as the patient breaths. Responses to the airflow are monitored and recorded.
Used to screen for: Sleep-related breathing disorders including obstructive sleep apnea, central sleep apnea and hypoventilation and hypoxemia
Your CPAP Application: What to Expect Brochure
Fatigue Studies (Multiple Sleep Latency Test or MSLT) are conducted during the day and after a standard sleep study. The study involves 4 or 5 naps (20 minutes each) separated by 1.5 hours of wakefulness.
Used to screen for: The MSLT is the benchmark standard for screening for narcolepsy.
Your Multiple Sleep Latency Test: What to Expect Brochure
Test results are returned to the referring physician within two weeks.
Accommodations
The Sleep Center features a six-bedroom suite, where patients spend the night in a quiet, comfortable room with a private bathroom. Most rooms have full-size temperature sensing foam beds, nightstands, lamps, and televisions. Pediatric testing rooms have two beds to accommodate the child and a parent. Specially trained sleep technicians apply electrodes to the patient's head and body.