A Little Girl Breathes Easier After a Life-Saving Trip to America and The New York Eye and Ear Infirmary's Division of Pediatric Otolaryngology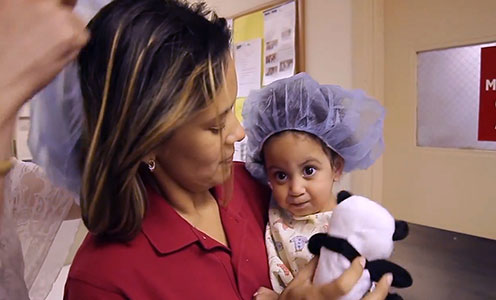 Amy's mother first noticed Amy's breathing problem right after she was born. During the day, Amy appeared happy and healthy, but at night when Amy slept, Amy's mother could tell she wasn't breathing properly. Amy struggled for air and would even turn purple.

It was soon discovered that Amy had choanal atresia, a congenital disorder where the back of the nasal passage (choana) is blocked, usually by abnormal bony or soft tissue. The condition happens when nasal bones do not develop properly as the baby grows during pregnancy.

Amy's family traveled from Santo Domingo to the New York Eye and Ear Infirmary of Mount Sinai and Joseph Bernstein, MD, Director, Division of Pediatric Otolaryngology, to receive life-saving surgery that wasn't available in their own country.

Watch the video to see how Amy's trip to America gave her, and her family, the ability to breathe easier and thrive.