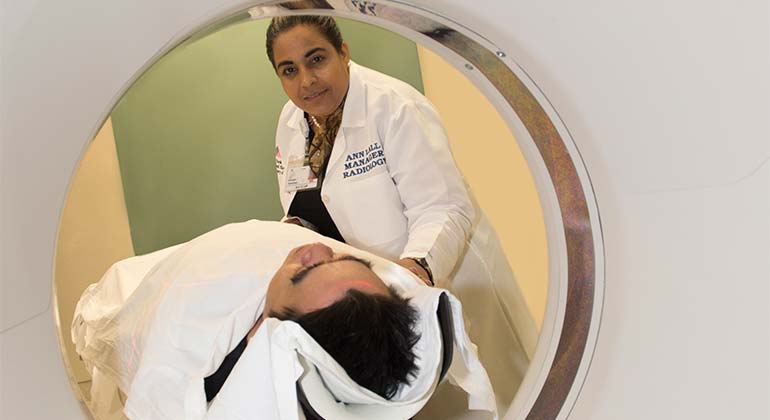 Radiology and Diagnostic Imaging Services
Our qualified, experienced team of technologists is certified by The American Registry of Radiologic Technologists (ARRT), and our expertise is highly regarded as we serve a large volume of patients with a wide variety of diagnoses. Our imaging protocols use the least amount of radiation possible to reduce your level of exposure. We also conduct imaging of the temporal bone for pre- and post-operative evaluation of cochlear implant candidates.
A great deal of information goes into giving you the most accurate diagnosis possible. Under the guidance of radiology director Azita S. Khorsandi, MD, a specialist in head and neck radiology, our radiology team works together with your physician to gather the required information, accurately diagnose your condition, and recommend innovative treatment options. We also receive referrals to our center from physicians in the Tri-state area and beyond to tap our expertise in ocular imaging and often consult on evaluating test results and treatment plans.
Radiology Services Available at NYEE
Our team is experienced in providing quality outpatient medical imaging services that include the following:
Adult CT Scans
With a 64-slice, low-dose, high definition CT scanner, our specialty is head and neck, as we provide highly detailed, three dimensional images of the organs and structures within the area.
Pediatric CT Scans
Specific radiation, low-dose exposure protocols for pediatric CT are based on the child's size, and the region and organ systems being scanned.
Additional Services
We are also skilled in providing a wider range of imaging studies, which include the following:
Esophagrams and video swallowing studies
Lumbar puncture under fluoroscopy /cisternography
Routine radiography
Inpatient / emergent imaging
Ultrasound studies of the thyroid gland
For information about these tests and scheduling please call 212-979-4397.
Radiology Services for NYEE Patients Performed at Affiliated Diagnostic Imaging Sites
Patients who require the following testing services are accommodated at various other facilities within the Mount Sinai Health System, such as Mount Sinai Beth Israel or Mount Sinai Cancer Center.
MR examinations
Nuclear Medicine studies
Mammography
Myelography
All other ultrasound studies
All other barium studies
Bone Densitometry