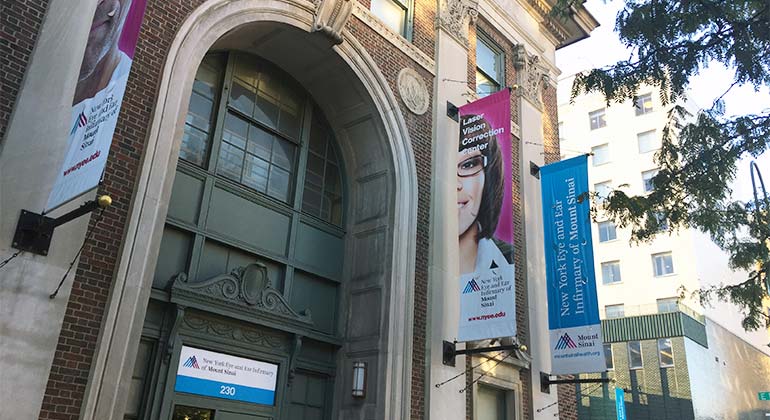 Laser Vision Correction Center
Laser vision correction, also known as refractive surgery, treats nearsightedness, farsightedness, and astigmatism, helping to eliminate the need for eyeglasses and contact lenses for many patients. The Laser Vision Correction Center at New York Eye and Ear Infirmary of Mount Sinai (NYEE) offers the most advanced vision correction surgery available. Our board certified ophthalmologists are leaders in the field of refractive surgery, in both teaching vision correction techniques to other ophthalmologists across the nation, and participating as investigators in clinical research to improve the quality, efficiency, and outcomes of vision correction surgery. The physicians operating at the Laser Correction Vision Center are experienced surgeons focused on setting and maintaining the highest standards of care in the industry and using the latest technology.
Patients considering laser vision correction will benefit from customized treatment plans and the latest equipment in our state-of-the-art facility. The Laser Vision Correction Center offers a variety of choices for laser vision correction surgery including:
Custom Laser Assisted In Situ Keratomileusis (LASIK), also known as Wavefront Guided LASIK
IntraLase® Femtosecond Laser, also known as Bladeless LASIK, the first blade-free laser technology delivering better biomechanical stability and refractive outcomes than a microkeratome blade
To determine if you are a candidate for laser vision correction surgery, make an appointment for a one-on-one consultation with one of our experts at 212-979-4600.