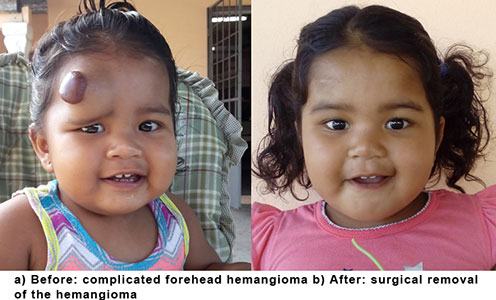 Avani Hakim, an 18 month old little girl fromTrinidad and Tobago made a long journey with her mom to New York City for a life changing surgery to remove her hemangioma. The family was given a diagnosis of hemangioma soon after her birth when it was still quite small and told not to do anything. However the tumor quickly grew to be quite large, causing the forehead to swell out and the eyebrow and eyelid to droop; understandably this caused the family a lot of stress.
Avani's mother, Uyjanti was desperately trying to find a local doctor to operate on her daughter but the family was told that nothing could be done. The tumor was still growing and people were starting to stare and make comments. Uyjanti knew her daughter needed surgery in order to have a chance at a normal life. She turned to social media and found a group of mothers on Facebook that told her about a vascular birthmarks surgeon in NYC. Uyjanti emailed Dr. Levitin late 2015 asking for help. Mom explained that she had exhausted her efforts to get local treatment and shared a couple of photos of her daughter's large scalp/forehead hemangioma.
"I immediately recognized that this was an unusually large case of a hemangioma causing significant deformity of the scalp and forehead," recalls Dr. Levitin. "Quite simply, this could not be done anywhere else; she needed to come to NY for treatment. I advised Uyjanti to bring her daughter for treatment right away because early surgical intervention would help restore her back to normal appearance before she develops a sense of her self and resolve any external deformities; and also prevent the need for more invasive reconstructive procedures such as tissue expanders or skin grafts later in life."
Avani and Uyjanti arrived in New York in June of 2016 and Dr. Levitin was finally able to examine his little patient. Surgery was scheduled for June 28 at New York Eye and Ear Infirmary of Mount Sinai. His plan of action? Dr. Levitin was going to simultaneously remove the hemangioma and reconstruction her forehead in a singe stage, outpatient surgery.
Dr. Levitin explained, "I agreed to operate on Avani because I knew that if I didn't help her, no one would. If left untreated, this complex vascular tumor would leave a significant facial deformity, and would lead to local tissue changes that would leave her permanently disfigured. I definitely had my work cut out for me!"
Avani'stwo hour surgery was successful, but the challenges presented by Avani's age and the simultaneous removal of the tumor and forehead reconstruction were just the tip of the iceberg. "As soon as I made the skin incision, the tumor decompressed, rose up and nearly doubled in size," recalls Dr. Levitin. "It had invaded deeply through the underlying muscle and had two large feeding vessels that made the hemangioma even more vascular than typically encountered. Removing it was a slow and meticulous process to make sure it was cut out completely without impacting her underlying muscle. Fortunately we lost less than 2-3 teaspoons of blood, and I was able to preserve the underlying facial musculature and preserve her facial expressions."
Standing next to Avani in the recovery room Uyjanti was all smiles. "I'm so relieved; this phase is behind us now. She's such a brilliant child. She can achieve everything her little heart desires."