Your Surgery
Canceling a Procedure
If you find yourself in a situation that makes it necessary to cancel your surgery, please call your physician as soon as possible.
Checking In
Please arrive on time for your procedure to help avoid delays. All surgical patients should first go to the Admitting Office Reception Desk on the first floor of the main building at 310 East 14th Street. You will have a hospital identification (ID) bracelet put on your wrist.
If you are coming for ambulatory surgery, you will then proceed to the Ambulatory Surgery Center of the fifth floor, North Building. After signing the register, you will be directed to the waiting area. A nursing assistant will call you and take you to the dressing room, where you will get a locker. You will be given a hospital gown and robe to wear.
After you have changed, the nursing assistant will take you to Area A, our pre-surgical area. A registered nurse will assist you in all your needs. A medical consultant may examine you if your surgeon has requested medical clearance. If presurgical testing has not been done, the physician's assistant may perform a history an physical. Electrocardiogram (EKG) and blood work may be done or repeated as needed. You will also be seen by an anesthesiologist, if necessary. The surgical site will be marked with an X by a nurse to avoid confusion.
We ask that your family member, friend or escort wait in the TV room/waiting area. We will call them if needed and will be happy to answer their questions. We strongly recommend that you not bring children as we do not have facilities or personnel to adequately supervise them.
Cafeteria
The cafeteria is open 6:30 am to 3 pm daily. It is located in the basement of the North Building. For light snacks and beverages, there are vending machines available next to the cafeteria at all hours.
Private Duty Nursing
NYEE provides professional staff to meet your clinical needs, but if you would like personal nursing care to supplement the care by our staff during your hospital stay, you may want to arrange for a private duty nurse. Private duty nurses are engaged directly by patients or their families. These nurses are not employees of New York Eye and Ear Infirmary, but are hired through us from reputable outside agencies. Please note, they do not provide care in the PACU (Recovery Room). To make arrangements for private duty nursing, call (212) 979-4353.
Anesthesia
The anesthesiologist or certified registered nurse anesthetist (CRNA) is responsible for your comfort and well-being before, during and after your surgical procedure. Prior to surgery, the anesthesiologist/CRNA will meet with you, if necessary, to discuss your anesthesia and answer any questions you may have. If you have had any experiences in the past with anesthesia, please inform the anesthesiologist. In the operating room, the anesthesiologist/CRNA will manage your anesthesia and monitor vital signs. In the Peri Anesthesia Care Unit (PACU), the anesthesiology staff ensures that all patients remain stable following surgery. There are several ways to administer anesthesia. The anesthetic choice is related to your general condition and medical history, as well as the surgery or procedure being done.
General Anesthesia uses medicines to put you to sleep and medical gases to keep you asleep. With this technique, anesthesiologists will often use medicines to relax muscles and techniques that support your breathing.
Regional Anesthesia means injection of medicine through a small needle to "numb" specific areas of the body. Also known as a nerve block, an epidural or a spinal.
Local Anesthesia can provide loss of pain sensation over the areas where surgery is performed. It may be combined with sedation to induce a light sleep.
Monitored Anesthesia consists of local injections, as well as the use of medications to make you drowsy (e.g., conscious sedation). You will be able to communicate with the staff during this type of anesthesia.
Before going to the operating room (OR), you may be given a sedative to help you relax. A nursing assistant will then take you to the OR in a stretcher or wheelchair. If no sedative is given, you will be able to walk to the OR with a nursing assistant escort.
In the Operating Room
Your surgeon leads the OR team. Other team members usually include nurses, an anesthesiologist or nurse anesthetist, and a surgical assistant. As a team, they provide a sterile and safe surgical environment. If the OR feels cold, you can ask for a blanket.
In preparation for the procedure, an intravenous (IV) line will be started in an arm or hand vein. This will be used to deliver medications and fluids during surgery. Vital signs are monitored through a cuff placed on your arm to measure blood pressure; pads placed on your chest will track your heart's function; and a clip placed on your finger will measure the oxygen level in your blood. During the operation, the blood pressure cuff will inflate automatically at intervals and you will feel pressure on your arm.
Recovery and the PACU (Peri Anesthesia Care Unit)
Please read the PACU Vistation Guidelines for Families.
After your surgery, you will be taken to the recovery room, also called the PACU (Peri Anesthesia Care Unit), or to the Ambulatory Surgery Center, where you will be closely monitored until the anesthesia wears off and you wake up. Your blood pressure, pulse, temperature and breathing, as well as the area of your body where you had surgery, will be checked.
You may feel drowsy and cold, and you may have some pain, which is normal after surgery. The PACU or Ambulatory Surgery Center nurses will take care of your needs and make you comfortable. Once you are sufficiently awake, you either will be discharged home if you are an ambulatory surgery patient, or you will be transferred to your room in the hospital until you are well enough to go home.
You will be given simple exercises to help in recovery. Taking deep breaths and coughing will help to clear your lungs and prevent pneumonia. Walking and moving your legs will help your circulation. Be sure to have someone with you the first time you get up and until you feel steady.
Pain Management
The New York Eye and Ear Infirmary is committed to recognizing and treating your pain using medicines and treatments that will provide the best level of relief. As the patient, you have valuable information to give the staff regarding your pain. Remember that you know your pain best.
Always tell your doctor, nurse or other staff member when you are having pain. Don't be afraid to ask for pain medicine. Many people are so worried about "getting hooked" or addicted that they don't talk about their pain or take the medicines that are prescribed. In most cases, addiction is not a concern and medicines can, and should, be taken to relieve pain. If you have concerns about addiction, you should speak openly about them to your doctors and nurses. Managing pain is an important aspect of getting well.
The nurses and doctors will ask questions about the intensity (how strong), location, and the type (throbbing, burning, aching) of pain you may be experiencing. We often ask you to rate the intensity of pain using a pain scale. The pain scale is used in evaluating the pain and also in evaluating the effectiveness of pain medications or treatments. The pain scale uses numbers from 0 (no pain) to 10 (the worst pain possible) or pictures of faces that show various levels of pain intensity.
It is helpful for you to know that pain control is important in providing you with the comfort and strength to heal and get well. We know that patients who have their pain well-controlled generally tend to recover better and faster.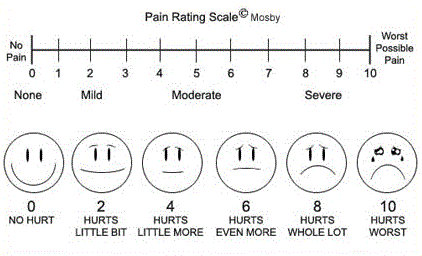 You are being assessed for pain when you can't speak for yourself -- such as in the OR and PACU -- with the FLACC Behavior Pain Scale. All children under for are also monitored at all times with this scale.
At NYEE, we can provide a variety of options in the prevention and management of pain. Some of these options are:
pain medication by mouth (pills) or skin patch
pain medicine given by injection into a muscle
pain medicine given into a vein
pain medicine given through a Patient Controlled Analgesia (PCA) pump (The PCA pump is a machine that contains pain medicine. It has a button that you can push to give yourself a dose of pain medicine when you need it within the limits ordered by your doctor.)
regional anesthesia: Local anesthetics and/or pain medicine is injected into an area to relieve pain or numb a part of the body for a period of time.
There also are m ethods that can assist in the relief of pain that do not involve medicines, such as relaxation techniques, hot or cold packs, rest, deep-breathing exercises, proper positioning in the bed or chair, and distraction techniques such as music, television and visitors. No matter which pain management therapy you use, remember some important facts:
Discuss pain management therapy with your health care providers. Let them know your allergies, previous experience with pain medicines, other medications that you are taking and your health history.
Tell the staff how strong or severe your pain is. Let them know what makes it better and what makes it worse.
Ask for pain medication when you need it or before doing an activity that may cause pain - don't wait until the pain is too strong or out of control.
Be sure your identification band is checked before you are given the medication.
Give the pain medication time to work. Ask the staff when you can expect to feel some relief from the pain.
Use rest, deep breathing and other non-drug treatments to help your pain.
Tell the staff how you are feeling. Let them know how effective the pain management therapy is. Tell them if you are experiencing any unexpected or unacceptable effects from your pain management therapy.
Your health care provider knows how to assess and treat your pain. If you have any questions or need further information, speak with your nurse or doctor.