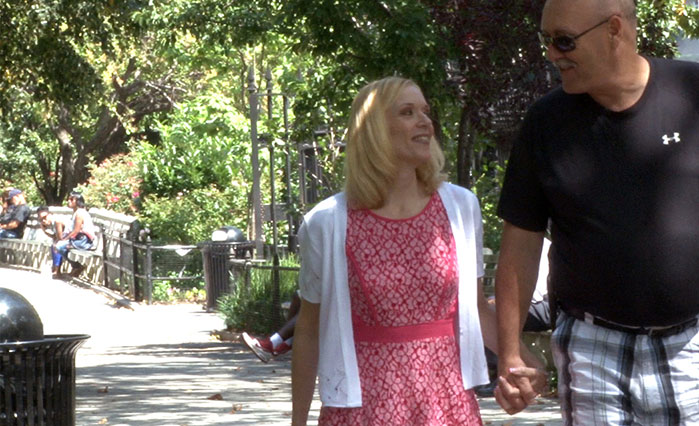 A New York Eye and Ear Infirmary of Mount Sinai patient discusses her decision to undergo plastic surgery after having a gastric bypass
In April 2010, Sandra Coleman had reached her limit. Sandra had struggled with her weight for her entire life, trying and failing untold times at managing it with different diet and lifestyle modifications. After careful consideration, Sandra chose to have gastric bypass surgery. The surgery was a success and within two years, Sandra managed to shed approximately 140 pounds. Sandra should have been thrilled, but her achievement was being overshadowed by a new issue—all the excess skin left behind by the weight loss.
"No one really tells you about that part of weight loss surgery," Sandra says. "They focus on your risks, the recovery, what you can eat and all of that. My gastrointestinal surgeon mentioned maybe once that I might have 'some' extra skin, but it was shocking how much there was."

All of the extra skin made it hard for Sandra to buy and wear clothing. It was embarrassing for her and it was impacting her self-esteem. Sandra knew she wanted to have the extra skin removed through cosmetic surgery, but she wasn't sure where to turn.
Sandra and her husband started doing some research to find a plastic surgeon near where they lived in southern New Jersey. After speaking with several local doctors, Sandra's hopes were dashed when she realized how expensive the procedures were going to be. "I just thought there is no way we can afford this."
Then one day, she was on a gastric bypass patient website and came across a plastic surgery forum. There she learned about a potential option for receiving top-notch plastic surgery care at more affordable rates—through fellowship programs at academic medical centers. These programs offer budget-conscious patients access to the expertise available at a teaching hospital by connecting patients with a medical doctor who is advancing his or her medical training as a fellow. New York Eye and Ear Infirmary of Mount Sinai's (NYEE) Department of Plastic and Reconstructive Surgery has one of the oldest and largest fellowship programs in the country that offers plastic surgery services to patients.
"I found the information for New York Eye and Ear Infirmary's program and one other in the New York area, " Sandra says. "I decided to have consultations at both to get all the information I could. At the first hospital, I just didn't feel comfortable with the doctor. But when I came to New York Eye and Ear of Mount Sinai, I immediately connected with Dr. Anthony Perkins."
Dr. Perkins was then part of the NYEE Postgraduate Cosmetic-Surgery Fellowship program and is now an attending physician in the Department of Plastic and Reconstructive Surgery at NYEE.
During the initial consultation, Dr. Perkins examined Sandra and told her she would be an excellent candidate for several procedures to help tighten her skin. Sandra was pleased that the costs of the recommended procedures were affordable for her.
Sandra was most concerned about the surgery for her breasts. Sandra knew she didn't want to get implants and Dr. Perkins assured her that he would be able to remove the excess skin and improve the look of her breasts without implants. With that reassurance, Sandra booked her breast surgery for the next month. She also chose to have surgeries at NYEE to help remove the excess skin on her arms and stomach several months later.
Sandra says that she was nervous when she arrived at NYEE on the morning of her first surgery, but that she immediately felt at ease when Dr. Perkins came in to check on her before the procedure. "He is just great, he makes you feel so comfortable."
After several successful surgeries with Dr. Perkins, Sandra feels great. "Before the surgeries, I wasn't a happy person. I wouldn't let myself get photographed, I hated going to the beach," she remembers. "But now, I feel good, I feel healthy. I want to enjoy this new stage in my life."