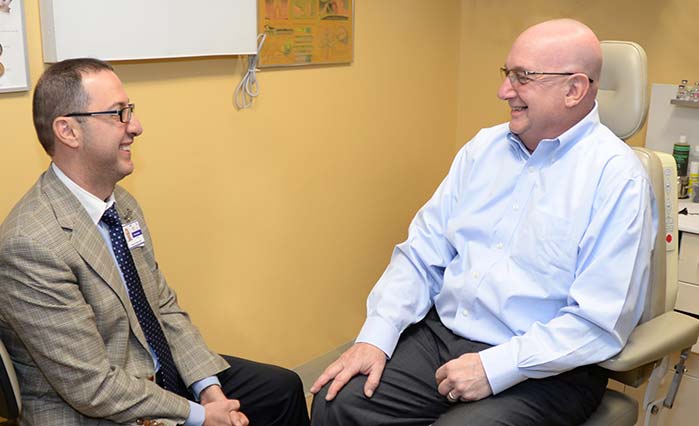 Patients with hearing difficulties can email the Ear Institute staff at: einstitute@nyee.edu

The Ear Institute at New York Eye and Ear Infirmary of Mount Sinai sets itself apart from other institutions by bringing together, under one roof, a highly specialized and comprehensive multi-specialty team of professionals focused on ear and balance disorders. Medical or surgical interventions are augmented by onsite testing services and therapies, all part of 360 degrees of care.
Highly Specialized Care Team
The treatment process at the Ear Institute often begins with your primary care doctor or family pediatrician, who will refer you or your child to one of our otolaryngologists. This ear, nose and throat specialist will determine the nature of the problem underlying the hearing loss, and if it is medically or surgically treatable. The Ear Institute's team of ENT specialists includes otologists and neurotologist. What this means is that in addition to rigorous training to become a board certified otolaryngologist, the Ear Institute's doctors have additional training in specific areas of the ear and facial nerves, including disorders of the vestibular system of the ear, which affects balance and hearing. Medical and surgical options are discussed with each patient and a personalized treatment plan developed. The specific nature of your condition will determine the type of a specialist or a subspecialist that will be part of your or your child's care team:
Otology entails treatment of disorders of the external, middle, and inner ear. Diseases such as ear infections, neurosensory hearing loss, tinnitus, and vertigo are treated by an otologist.
Neurotology includes treatment of disorders of the skull base such as acoustic neuromas, meningiomas, glomus tumors and facial nerve disorders.
At the Ear Institute, our otolaryngologists/otologist-neurotologists work closely with audiologists, licensed and highly skilled clinicians who perform—based on the patient's age and level of participation—a battery of hearing tests to determine the nature and severity of the hearing or balance disorder. If the need for amplification exists, the audiologist will help the patient select an assistive listening device, such as a hearing aid, and also help with the fitting, training and ongoing maintenance of the device.
Comprehensive Support Services for Children
If the hearing impairment involves a child, additional professionals at the Ear Institute become involved, providing one of the largest, most experienced and cohesive teams of pediatric hearing specialists in the country. Its members include speech-language pathologists who evaluate the impact of your child's hearing loss on speech and language development, then help the child to learn proper speech production, including articulation of speech sounds. Our services include a highly regarded specialty service Auditory Verbal Therapy, provided by a certified Listening and Spoken Language (LSL) specialist.
Early intervention specialists help parents understand their child's hearing disorder, how they can help to enhance their speech and language development, and what community resources are available to assist them. Rounding out the pediatric team are an educational specialist who works closely with the family to ensure the hearing-challenged child receives the proper government-funded educational services and school placements, and a social worker to help build the child's confidence and socialization skills.