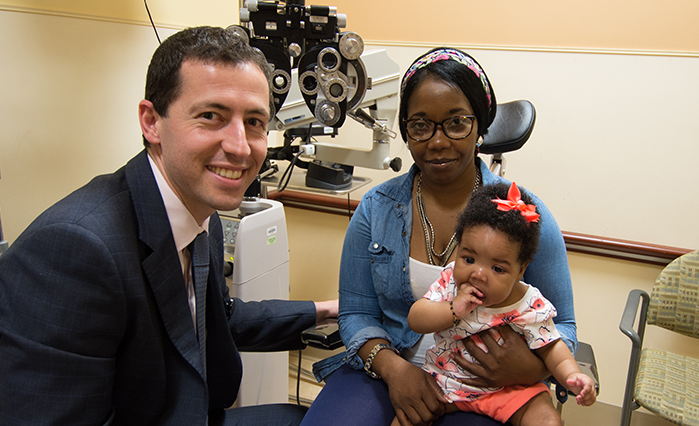 Childhood glaucoma is relatively rare, but when it occurs, if not detected and treated early, it can cause significant and permanent vision loss. Fortunately for three-monthold Meagan Charles, her perceptive parents noticed that their newborn's eyes were getting progressively larger and hazier. They took her to their pediatrician, who referred her to a pediatric ophthalmologist. They could not find a specialist who could see her quickly at two other area hospitals, so they came to New York Eye and Ear Infirmary of Mount Sinai (NYEE). Meagan's intraocular pressure was 54 mm Hg in both eyes when she presented. She promptly underwent an examination under anesthesia and had surgery performed by Joseph Panarelli, MD, Assistant Professor of Ophthalmology at the Icahn School of Medicine at Mount Sinai and Glaucoma Fellowship Director at NYEE.
The following week, he operated on her second eye. He reports that both surgeries were successful and Meagan's prognosis is excellent.
High pressure in developing eyes can lead to optic nerve damage, corneal damage, progressive myopia, and amblyopia. Early pressure-induced changes on the optic nerve can be reversed and permanent damage prevented. Dr. Panarelli performed a 360° trabeculotomy with the iScience microcatheter. This treatment, performed in only a few eye centers nationwide, provides a new, more effective spin on an existing procedure and has enhanced the treatment of pediatric glaucoma. Using the illuminated, flexible microcatheter, the surgeon is able to open the entire length of the Schlemm's canal. The illuminated red diode indicator of the probe tip alleviates the problem of the "blind pass" and avoids the potential complications resulting from misdirection of the catheter. It also features a central channel for injecting viscoelastic agents to expand the canal during catheter advancement. The procedure takes approximately 30-45 minutes to perform.
Until recently, when congenital glaucoma patients did not respond to conventional angle surgery, they often required additional procedures to treat the remainder of the angle. With this technique, subsequent surgeries are usually unnecessary if the canal is fully opened.
Dr. Panarelli doesn't expect Meagan to need additional surgeries. Her eyes have shown a marked improvement a week after surgery. Her corneas are clear, changes in the optic nerves have reversed, and her intraocular pressure is around 12 mm Hg in both eyes. "This is the best outcome we could have hoped for," he said. For now, drops are not needed and he will continue to monitor her progress closely over the next several months.
"Pediatric glaucoma is one of the most challenging conditions that I treat, but it is also one of the most rewarding aspects of my practice," says Dr. Panarelli. "I feel privileged to be able to help restore sight to children at a crucial stage in their intellectual and social development. As the father of two, I appreciate the impact of visual stimulation on a child's maturing mind and I want every child I treat to be able to expand their understanding of the world through sight."