What is a choroidal nevus?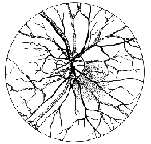 Like a raised freckle on the skin, nevi can occur inside your eye. These tumors are rare and can only be seen by an eye-care specalist. Like a nevus on the skin, a choroidal nevus can grow into a melanoma. This is why photography will be used to document the size of the nevus. Patients with a choroidal nevus should have their eyes examined two to three times every year to check if their nevus has changed in size.
What is an intraocular melanoma?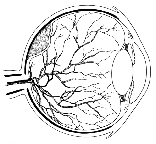 Intraocular malignant melanomas can grow beneath the retina. This form of cancer can spread to other parts of the body, so patients have a complete medical work up before they are treated. If they are small, melanomas can be observed for growth prior to treatment. Since most intraocular melanomas are treated with either enucleation (removal of the eye) or by radiation therapy (preserving the eye), this difficult decision is made with your participation after a lengthy discussion of the risks and benefits of each treatment.
What is a retinoblastoma?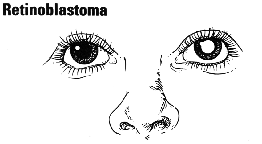 This rare tumor is the most common malignant eye-tumor which occurs in children. Though most children have to lose one eye to prevent the tumor from spreading to the rest of their body, 90% of those children are cured by surgery. If possible, every effort is made to spare your child's eye and preserve vision. Your child must always be followed by a medical oncologist after treatment.
How do you treat eyelid tumors?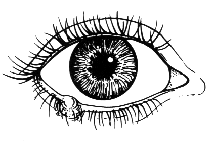 Tumors of the eyelids may be benign cysts, inflammations (styes), or malignant tumors (skin cancers). When surgery is required, malignant tumors are completely removed and the eyelid is repaired using a plastic surgery technique. Additional cryotherapy (freezing-therapy) and radiation are sometimes required after surgery.
Do tumors occur on the iris?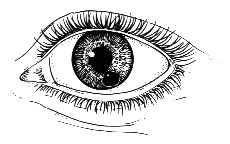 The iris is the colored part of the eye. Tumors can grow within and behind the iris. High frequency ultrasound is used to diagnose and follow iris tumors for evidence of growth. Since iris melanomas are less likely to spread to other parts of the body, these tumors are usually watched for evidence of growth before treatment is considered.
Where are conjunctival tumors and how are they treated?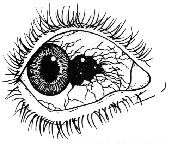 Malignant cancers can grow on the surface of the eye. Most can be completely removed by surgery, while others require the additional cryotherapy (freezing). One of our doctors, Dr. Paul Finger, was the first ophthalmic oncologist to investigate the use of Mitomycin C chemotherapy eye-drops for patients with conjunctival melanoma. This treatment may not only treat the cancer, but can decrease the chance of scarring after surgery.
Where is the orbit and how are orbital tumors treated?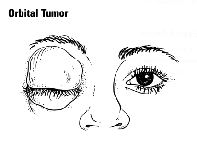 Tumors and inflammations can occur behind the eye. They often push the eye forward causing a bulging of the eye called proptosis. Most orbital tumors can be diagnosed by a simple biopsy called an orbitotomy. Occasionally these tumors are too big or involve the sinuses and require more extensive surgery with bone-flaps. If not removed or during surgery most orbital tumors can be treated with external beam radiation therapy.
Answers prepared by Paul T. Finger, MD.