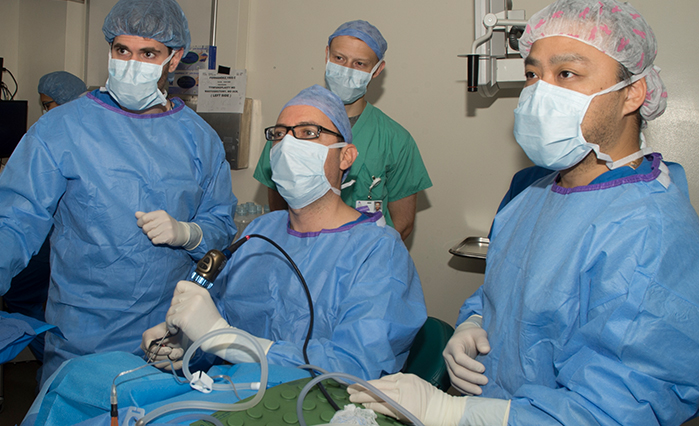 Where the World Comes for the Highest Quality Care
Founded in 1824, the Department of Otolaryngology at NYEE was the first Otolaryngology department in America. Since then, the Department has evolved into a major international referral center, performing more than 5,000 surgeries and treating more than 70,000 outpatients a year. The Department provides a full range of services to patients of all ages, providing treatment for all conditions of the ear, nose, throat, head, and neck. Our physicians are experts in the treatment of thyroid and parathyroid tumors, sinus problems, cleft lip and cleft palate repair, voice and throat conditions, hearing disorders, sleeping and airway difficulties, and cosmetic issues of the face and neck. Using the latest minimally invasive techniques and state-of-the-art-technology, our specialists combine a patient-centered approach to care with a high level of clinical experience resulting in superior outcomes for patients affected by function-limiting conditions, shortened rehabilitation, and enhanced quality of life.
Ear Institute
The Ear Institute at NYEE is one of the premier facilities for the diagnosis and treatment of hearing loss, congenital defects, and conditions related to the ear. The Institute brings together a diverse group of outstanding ear specialists in cochlear implantation, medical and surgical otology and neurotology, and hearing and balance disorders in adults and children. Our comprehensive and individualized approach to diagnosis and treatment emphasizes compassionate and integrative care, innovation, and research.
Cochlear Implant Program
The Ear Institute's medical experts helped pioneer the cochlear implant, a revolutionary auditory prosthesis that can be surgically implanted into the inner ear of children and adults with severe hearing loss. Long recognized as one of the leading cochlear implant centers in the nation, NYEE has a highly experienced team that is well versed in all aspects of adult and pediatric cochlear implantation. We provide comprehensive evaluation for all levels of hearing loss and identify the best hearing technology to meet each patient's individual needs.

Service Areas
Thyroid and parathyroid diseases