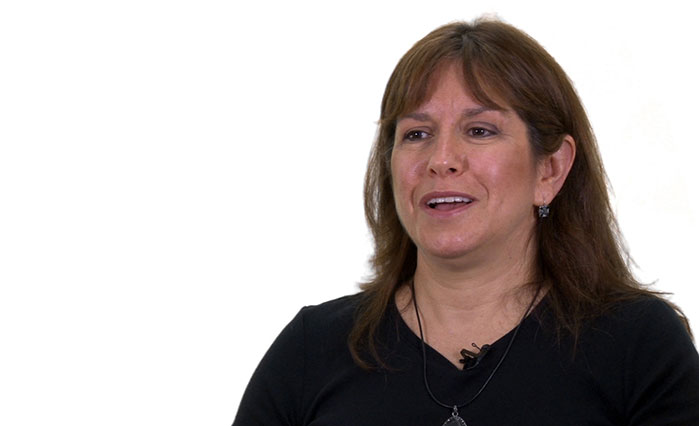 Braving Surgery to Find a New Lease on Life
A New York Eye and Ear Infirmary of Mount Sinai patient shares her journey as a breast cancer survivor
Andrea Fisher's routine 2013 mammogram was followed by some less than routine news when a follow-up biopsy revealed ductal carcinoma in situ (DCIS) in her right breast and lobular carcinoma in situ (LCIS) in her left. With a strong family history of breast cancer, Fisher had long anticipated the diagnosis and always felt that when it happened she would want a mastectomy so she'd no longer have to worry. When the first physician she visited quickly dismissed the mastectomy in favor of a lumpectomy, then the situation worsened with the discovery of a third formation of abnormal cells (called a radial scar), Fisher sought a second opinion from Lauren Cassell, MD, of the New York Eye and Ear Infirmary of Mount Sinai (NYEE).
"When I met with Dr. Cassell, she was incredibly warm and friendly, and sat through a very long discussion," says Fisher. Dr. Cassell presented the pro and cons of both a lumpectomy and mastectomy and ultimately left the decision up to Fisher. "Dr. Cassell explained that my decision ultimately turned on how much risk of recurrence I was willing to live with" says Fisher. "I'd lived with this risk for years, and I felt for my own sanity and the benefit of my family I wanted to be done with this and not have to face this ever in my life, so the decision to perform a bilateral mastectomy was made."
Fisher then moved on to deciding the type of reconstruction she'd like to have, and opted for a technique called Deep Inferior Epigastric Artery Perforator (DIEP) Flap, in which the abdominal muscle is preserved, and skin, tissue and blood vessels are taken from the patient's abdomen ("almost like tummy tuck," Fisher says) and used to reconstruct the breast. With Dr. Cassell performing the bilateral mastectomy, Fisher chose Joshua Levine, MD, Chief of the Division of Advanced Breast Reconstruction at NYEE, and Robert Allen, MD, of NYEE, to perform the DIEP flap reconstructive surgery.
"When I told my friends I was having this type of surgery at New York Eye and Ear, they said, 'You're not having eye or ear surgery, I don't understand!'" says Fisher. "But my philosophy is you find the best doctors and go where they operate, and not only did I have the best doctors, but I truly feel NYEE was the best hospital."
Upon arriving at NYEE with her husband the morning of her October 1st surgery, Fisher's expectation of excellent facilities and staff were exceeded in a number of ways. "We were escorted to a fantastic private room with a couch for my husband to spend the night, a big flat screen TV, and private bathroom," Fisher remembers. "It was really nice for my husband to be able to wait out the surgery in my room with whomever wanted to wait with him."
And Fisher's staff of caregivers made a similarly positive impression. "The nurses who met me that morning were so kind, had wonderful attitudes and a really nice sense of humor," she says. "Plus NYEE had just renovated an operating suite for Dr. Levine, and I was the second person to have a procedure there. Everything was brand new and shiny. And the staff seemed so excited to have this beautiful operating room in which to work, and they were excited for me that I'd be able to benefit from the greatest state-of-the-art equipment. They were kind and calming, and I really felt everyone tried to make a personal connection."
Eight hours later, Fisher woke up in a recovery room to the news the surgery had gone "fantastically." Then began the trek back to full health.
The Road to Recovery
After the procedure, Fisher came to understand how hard healing from major surgery can be as she struggled with challenges like weakness, and difficulty walking and showering. But having the privacy of her own room and a compassionate, highly skilled staff made all the difference. Not only did the close patient to nurse ratio make her feel like she had a private caregiver, the nurses were specialized in caring for patients who'd had her procedure.
"DIEP flap surgery involves concern within the first 72 hours that the blood vessels will survive to keep the flap healthy, so the nurses came in consistently to check the flaps and give me meds," Fisher remembers. "Over the course of the five days I spent at NYEE, I got to know all the nurses on that floor. And I was so impressed with the dedication and care. They loved what they did, they loved working at NYEE, and they loved their patients, so it was a really wonderful experience."
And as she healed, Fisher was overjoyed with the results of her surgery. "Flap surgeries are the most advanced, most natural way to reconstruct a breast," she says. "Physically I look exactly as I did prior to the surgery if not better… And one of the benefits of this type of surgery is there's the possibility of nerve regeneration, so I've even had a little sensation return."
Overall, Fisher feels she could not have asked for a better experience or outcome. "I would not change one thing about it—the professionalism, the expertise, the kindness, the support of everyone involved in this procedure was beyond belief," she says. "This whole experience turned out so much better than I could have anticipated."
The Good Life After Surgery
Starting few months after leaving the hospital, Fisher joined a gym, started working out with a trainer, went rock climbing and feels she's in better shape than before the procedure.
She also has the energy to embark on new plans and projects. Having always wanted to start a jewelry line, Fisher has begun creating a collection, and is hoping to include a pink ring, the proceeds from which will partially go to breast cancer research. In addition, she is developing a consulting business called Breast Cancer Concierge Care to help women anticipating the surgery she experienced. Plus, she is hoping to work with her husband, who is a cartoonist, to create a graphic novel that explores her breast cancer journey as well as her experiences as a member of the "sandwich generation" caring for both her own children and an aging mother. And she's grateful to the doctors, nurses and the technology that ushered in this new chapter of her life.
"I now have the peace of mind of this having gone so well, and of not living with that worry of breast cancer hanging over me waiting for attack, and I'm so proud of the way I look and I feel," she says. "I'd always imagined having breast cancer would mean going through chemo, radiation, losing my hair, throwing up, and implants. So to have this experience be the opposite of all that is such a gift. And to have doctors who I truly think are the best in the world is also a gift. I feel incredibly lucky—like I dodged a bullet and it's given me a new lease on life."