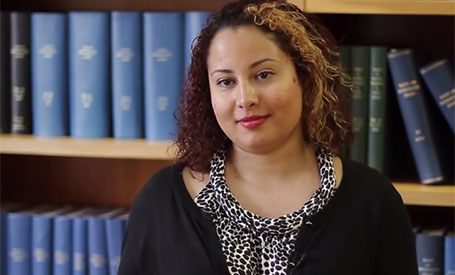 Cutting Edge Surgical Procedure Restores the Voice After Vocal Scarring
Michael Pitman, MD, Director of the Division of Laryngology and the Director of the Voice and Swallowing Institute of New York Eye and Ear Infirmary of Mount Sinai, met Celeste in March of 2011. Celeste was suffering from Lupus. The inflammation associated with lupus affects everyone differently, but for Celeste, one of the areas impacted was her voice. Her voice became very hoarse and raspy, making it difficult for people to understand her. She had been working as a speech language pathologist, but her vocal cords became so damaged from the inflammation, it made it almost impossible to work.
Dr. Pitman diagnosed Celeste with vocal scarring, which would require surgery to help repair her voice. Luckily for Celeste, Dr. Pitman has been pioneering a new surgical approach to treat vocal scarring—vocal cord fascia transplant.
In order to repair the damaged vocal cord tissue, Dr. Pitman used a small piece fascia, a connective tissue that surrounds the muscle behind the ear, to graft onto the vocal cords. Without having to make any incisions in her neck, Dr. Pitman performed the surgery through her mouth to reach her voice box.
Today, Celeste's voice has improved and she is glad she had the new cutting-edge procedure.
Watch the video to find out more about this new surgical treatment option for vocal scarring.