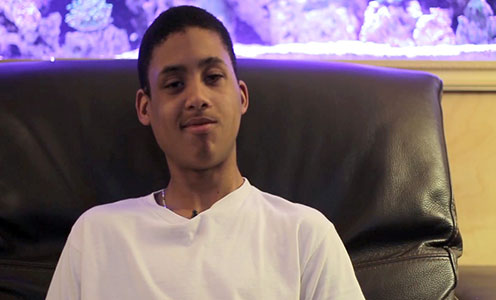 A Teenage Boy Smiles Again
If you were to meet Dimitri Jones today, you would see a bright young man with an outgoing personality and a full, spontaneous smile. Dimitri has not always been so outgoing or had that full, spontaneous smile. When Dimitri was three years old he was diagnosed with a cavernous malformation on the brain stem.
Cavernous malformations (also known as cavernous angiomas and cavernomas) are abnormal masses, or clusters, of dilated blood vessels. They can occur anywhere in the body, but those that occur in the spinal cord or brain are the most serious. Approximately one out of every 100 - 200 people has a cavernous malformation. The malformation can cause stroke symptoms, seizures, bleeding, and headaches. Since Dimitri's malformation was located on the brain stem, the hemorrhaging, or bleeding, led to significant brain stem injury resulting in the paralysis of the left side of his face. This affected his ability to smile or move that side of his face when speaking.
Although Dimitri got along well with his peers and was not teased by other children in his early years, his parents worried that as he approached adolescence he would become increasingly self-conscious about his condition and that this would lead to social withdrawal and psychological issues. This led them to seek out Dr. Grigoriy Mashkevich, an ENT (ear, nose and throat) otolaryngologist at the New York Eye and Ear Infirmary of Mount Sinai. Dr. Mashkevich is a leading expert in state-of-the-art "Smile Surgery," a type of facial paralysis (reanimation) surgery, which includes a number of surgical procedures designed to restore symmetry, balance, and movement to a paralyzed face. After meeting Dimitri, Dr. Mashkevich was confident he could help him.
Watch the video and learn how the boy who couldn't smile was given the gift of smiling again.