Wide-Field High Frequency Ultrasound of the Anterior Segment (UBM)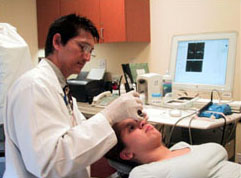 Utilizing a 35 or a 50 MHz probe attached to the OTI HF 35-50 MHz Ultrasound System, this test is performed under topical anesthesia by means of a water-immersion technique. This technique is done by holding a (rubberized) monoprene eyecup against the globe, filling it with special contact lens solution, and immersing the probe in the fluid medium to image specific structures located at the anterior segment of the eye.
This test can measure the depth of the anterior chamber, assess the status and thickness of the cornea and the natural lens, as well as image the position of implanted anterior and posterior chamber IOLs and their haptics, as well as anterior chamber and pars plana glaucoma shunts. It can also be used to measure the size and monitor the growth of iris and ciliary body tumors, as well as evaluate the mechanism of certain types of glaucoma. In the presence of an opaque cornea where no view is possible, this test is relied upon to image the anterior segment prior to any contemplated procedures.
Since utmost patient cooperation is needed, examination under anesthesia is ideal in the pediatric age group.
| | |
| --- | --- |
| | |
| UBM image depicting a horizontal wide-field image of a normal lens. | UBM image depicting a focal horizontal image of iris bombe w/ post-inflammatory PCIOL encapsulation. |
| | |
| | |
| UBM image showing a magnified radial image of aniridia. | UBM image depicting a wide-field radial image of a ciliary body melanoma with vitreous involvement. |
| | |
| UBM image of a magnified radial image of pigment dispersion syndrome showing wide open angle with concave iris profile. | |