The OCT/ICG is a device that integrates indocyanine green angiography (ICG) on the SLO channel of the OCT/SLO machine, allowing correlation of blood transit abnormalities on ICG with anatomic abnormalities on OCT. There is a one-to-one correspondence between these two testing modalities, and the images can be superimposed so that the changes in blood flow seen on the SLO channel can be directly correlated with changes seen on the OCT channel.
ICG angiography is incorporated into the SLO channel (left), and the corresponding coronal OCT image is simultaneously captured on the right.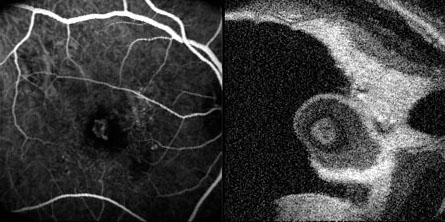 Same image as above, with OCT image given false color and superimposed upon ICG image to allow direct correlation of the studies.