Advanced Retinal Imaging Center: A Historical Perspective
With the invention of the ophthalmoscope by Hermann von Helmholtz in 1850, clinicians were for the first time given the ability to view the retina in the living patient. Following the introduction of the ophthalmoscope, knowledge and understanding of many eye conditions flourished ushering in what has been referred to as the Golden Age of Ophthalmology.
Two years after the invention of the first ophthalmoscope, the introduction of the indirect ophthalmoscope by Ruete allowed a stereoscopic and wider view of the fundus. A view of the retinal periphery was now accessible to the ophthalmologist, even through slightly hazy media.
| | |
| --- | --- |
| | |
| The first ophthalmoscope | Direct ophthalmoscopic exam with gas lamp illumination |
The Golden Age of Ophthalmology

1852
Ruete
Indirect Ophthalmoscope
1853
Donders
Pigment Retinopathy
Coccius
Detachment of the Retina
1855
Von Graefe
Cupped Disc of Glaucoma
Liebreich
Central Retinal Vein Occlusion
Jaeger
Diabetic Retinopathy
1856
Heymann
Hypertensive Retinopathy
1858
Jacobsen
Syphilitic Retinitis
1859/1860
Von Graefe
Embolism of the Central Retinal Vein
| | |
| --- | --- |
| | |
| First Indirect Ophthalmoscope | Modern Indirect Ophthalmoscope |
Fundus Photography
Stereoscopic fundus photography was pioneered by Jackson & Weber in 1886. The prototype camera was fixed to the patient's head, and a 2.5-minute exposure was used. Although the set-up showed only the largest details of the retinal anatomy and pathology, it was revolutionary for allowing photographic documentation of retinal findings.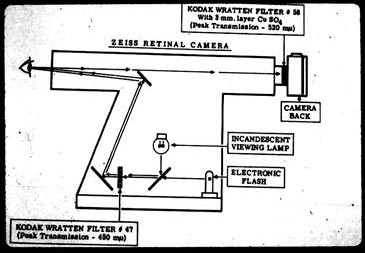 Modern Fundus Camera
Fluorescein Angiography (FA)
The technique of Fluorescein Angiography was first demonstrated in the human eye by two medical students, Novotny and Alvis in 1961. This paved the way for contrast studies of the ocular circulation, which has become the gold standard of imaging of the ocular circulation for the diagnosis of vascular disease.
| | |
| --- | --- |
| | |
| Normal Fundus | Normal Fluorescein Angiogram |
| | |
| Diabetic Fundus | Diabetic Fluorescein Angiogram |
Indocyanine Green Dye (ICG)
In the 1990's, the introduction of high resolution digital imaging systems allowed the addition of contrast studies using indocyanine green dye. Used for years in cardiac blood flow studies, the infrared fluorescence spectrum of the dye had previously limited its practical use in the eye. The enhanced sensitivity of the digital camera to the infrared wavelength permitted real-time observation and recording of indocyanine green dye transit through the ocular circulation.
The infrared fluorescence of ICG highlights the circulation of the choroid providing enhanced view of the deeper vascular structures, images which are complementary to those produced by fluorescein.
The series depicted below shows the ability of ICG to highlight the neovascular component of a retinal pigment epithelial detachment seen in a patient with age-related macular degeneration.
| | |
| --- | --- |
| | |
| Fundus Photo | Fluorescein Angiogram |
| | |
| Indocyanine Green (ICG) | |
Advances in the realm of retinal imaging have flourished in the last century, and continues to do so in the new millennium. At the Advanced Retinal Imaging Laboratory within the Retina Center of The New York Eye and Ear Infirmary of Mount Sinai, we are proud to be at the cutting edge of these developments.