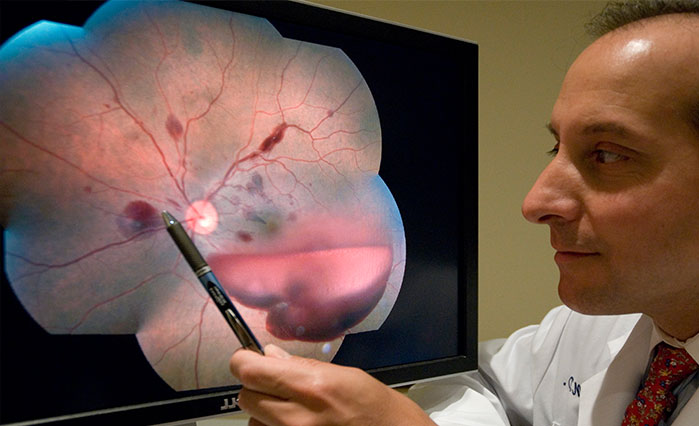 The mission of the Retina Service at New York Eye and Ear Infirmary of Mount Sinai (NYEE) is to serve the dual roles of providing outstanding specialized patient care and meeting the needs of resident and fellow education and training.
The Retina Service accommodates more than 50,000 patient visits per year, in addition to performing approximately 1009 ERGs, 3657 angiograms, and 3855 laser treatments. Retina Service Surgery accounts for approximately 1377 vitrectomy procedures, 244 scleral buckles, and 127 cryopexies per year.
Innovation
Recent innovations such as surgery for macular holes, submacular pathology, complex trauma repairs, as well as restoration of diabetic retinas are daily events. State-of-the-art small gauge high-speed vitrectomy surgery including the use of long-acting gases, heavier–than–water perfluorocarbon liquids, and silicone oil for treating difficult retinal detachment cases is performed routinely at NYEE. In addition, clinical research involving advanced retinal imaging, stem cells, pharmaceutical therapies for retinal vascular disease, and new surgical tools are integral to the activities of the service.
History
The Retina Service was organized in 1959 by Morton L. Rosenthal, MD as the first working Retina Service in New York City, following his training at the Schepens Eye Institute in Boston. At that time, retinal repair was still in its infancy bolstered by new successes introduced by the technique of scleral buckling.
Over the years, the scope of the Service has gradually expanded from treating primarily retinal detachment and retinal tears to encompassing new and varied technologies, including digital fluorescein angiography, indocyanine green angiography, argon, krypton, dye, and YAG laser treatments.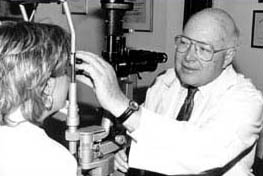 In 1998, Thomas O. Muldoon, MD assumed the leadership of the Retina Service and was the driving force expanding the research initiatives of the service and architect of its current facility. As a pioneer in vitreous surgery and retinal imaging, he helped make available the most innovative tools for his patients, his colleagues, and upcoming generations of ophthalmologists.