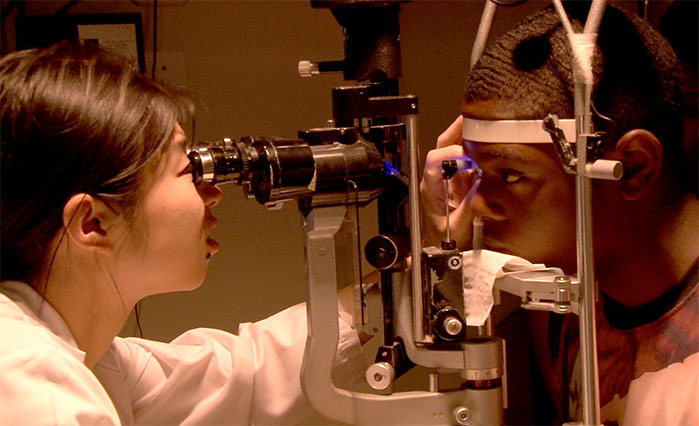 Overcoming Congenital Glaucoma
A New York Eye and Ear Infirmary of Mount Sinai patient and his mother shares how his treatment as an infant has shaped his life.
In the summer of 1998, Shavanne McCurchin was a new mother who couldn't figure out why her 2-month-old son Densha wouldn't stop crying. She comforted him, prayed, and finally got him to sleep. But 15 minutes later when he woke up and opened his eyes, Shavanne's life changed.
"His right eye looked like there was milk in the eye—the entire eye looked white," she remembers. "And I thought 'Oh my god I got powder in his eye when I was changing his diaper!'" She hurried to the hospital where the physician did an exam and asked if there was anyone in the family suffering from glaucoma, a condition typically diagnosed in older adults involving high pressure in the eye that could lead to vision loss. When Shavanne replied she'd never heard of glaucoma in an infant, the doctor explained she thought Densha had a rare condition called congenital glaucoma, and transferred Shavanne—who by now had been joined by her husband—and Densha to another hospital for further care. At the second hospital, an ophthalmologist said he could not operate on child so young, but offered another solution. "He said I can refer you to the best hospital," Shavanne says. "And that was New York Eye and Ear."
The McCurchin's arrived at New York Eye and Ear Infirmary of Mount Sinai (NYEE) at 6:00 the following morning and were seen by Paul Sidoti, MD, Deputy Chair for Clinical Affairs in the Department of Ophthalmology at Icahn School of Medicine at Mount Sinai and the Mount Sinai Health System. "He said 'I've never done surgery on such a young baby, but I am going to try,' and I was elated to know something would finally be done," Shavanne remembers. "He gave us every ounce of encouragement to buoy our spirits and tell us the situation would be different … He changed my tears to joy."
The surgery took place a week and a half later, and carried a 50/50 chance of saving Densha's sight. The five-hour procedure was a success, followed by at-home care that included administering eye drops. When the McCurchin's returned to Dr. Sidoti's office for their follow-up visit a few days later, the prognosis was good. "He said, 'things look wonderful,'" Shavanne remembers. "This child is improving."
That initial surgery was followed by a second procedure, then periodic visits every few months. "Dr. Sidoti was there every step of the way, encouraging us and saying to us, give the eye drops as ordered," Shavanne says. "This won't be a cure, but we will control the glaucoma."
Now 16 years old, Densha doesn't remember the trauma of his initial diagnosis and surgeries, but he's become accustomed to a life that involves the extra responsibilities of controlling his condition. In addition to wearing glasses, taking measures such as following a schedule of administering eye drops, limiting time spent watching TV and electronic devices, and reducing dietary sodium are all necessary to keep the pressure in his eyes under control. But through regular doctor's appointments, the McCurchin's have the support of their NYEE team.
"When people ask me about glaucoma, I just say I was born with it and I've been living with it since I was a baby, and it's been hard but I know there's a bright future ahead," Densha says. "And when I go to NYEE I know I have supporters and people dedicated to helping me have a better future and better eye sight."
Shavanne is quick to add her praise. "The moral support, the compassion, the care and the love given by NYEE have played a major part in this whole process … You realize you're not carrying this burden alone and you have individuals helping you along the way." she says. "Had it not been for NYEE my son would not have been able to see my face or see his own face, so I'm very grateful."
And that quality of care has allowed Densha to move beyond his condition and focus on an exciting future. He plays baseball and the piano, and is planning on a career as a recording engineer producing classical music.
"Had it not been for [saving] my eyes I don't think I'd be doing music or anything, I think I'd be in a dark space alone," Densha reflects. "So I'm thankful to NYEE that I was able to have sight so I can accomplish things like an everyday person."