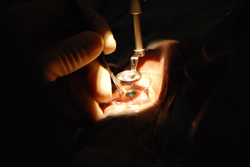 Ocular trauma is a leading cause of vision loss to one eye. Various parts of the eye and surrounding (adnexal) tissue can be involved and proper and expedient management of the injury by an experienced team of ophthalmologists is critically important for saving eyesight.
New York Eye and Ear Infirmary of Mount Sinai's (NYEE) highly specialized Eye Trauma Service is composed of a team of board-certified surgeons dedicated to repair of all aspects the eye, including oculoplastics to help assure good aesthetic outcomes. Patients come to NYEE from around the world for primary and secondary repair of their ocular injuries.
The NYEE Eye Trauma Service is home to the Eye Injury Registry of the State of New York and is a member of the United States Eye Injury Registry. Data from the registries are used to conduct analytical epidemiological research and for development of eye safety strategies and clinical trials.
Providing
retinal repair
iris repair
cyclitic membrane removal
cyclodialysis cleft closure
glaucoma drainage implantation
anterior segment reconstruction
corneal transplant
removal of traumatic cataract
eyelid and facial reconstruction